Archives for July 2010
Good news –  The  beautiful bracelet is the August special!  You can purchase a bracelet publishing credit from  Lisa in August for only $29.95! That's 10 bucks off!

Go to http://www.PetBookLady.com/ and sign up for a FREE account. From there, you can send Lisa an e-mail to purchase a bracelet credit. Or you can e-mail Lisa directly at makebooks@shaw.ca.
So even if you didn't win a bracelet in our contest, you can still get your own bracelet on sale from Lisa!  Hurrah!

Friends, We have our Winners in the Celebrate Your Pet in a Keepsake Bracelet!
~Purr it up for Lisa's pick for the most touching story~

Kristen:
July 21, 2010 at 10:57 pm
I would love a bracelet to show off my furry children. It has been a very bad month for me, as one canine baby (who was 18 years) died, and days after, my beloved sweet kitty disappeared. I have been trying to think of a creative way to display everyone's pictures, and this just might be it. So, I have two furangels in one month, leaving the rest of us to miss them terribly, but to also celebrate the love and joy they brought to my family for so many years.The other furries, the Fab 5, would like to see their pictures on a bracelet as well!
And our Lucky winner chosen by a Random Number drawing is
Jone Gagnon!
~Purr it up for Jone!

Congratulations to our Winners!
We also have our Winner in The Tiniest Tiger's De Gracey Code Eyenimal Video.  I chose by random number selection from all the Friends that Cracked the Code and posted here on at the Conservation Cub Club.  The winner of a Paw-tographed copy of  The Tiniest Tiger is
Joann D'Alessandro:
When I have my slanket and can chomp chow, I feel like singing Hakuna Matata.
Hey Gracie, have you considered becoming a professional cameracat?
CONGRATULATIONS !!
Joann D'Alessandro!
~Purr Purr Purr~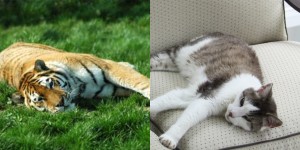 Friends, even though the days of the week fall the same every single week, sometimes I lose track of them.  So here it is Thursday already and I am just now posting my latest, greatest The Tiniest Tiger's Tiger Tuesday Imitation.
I am especially nervous about my newest imitation because last week's imitation caught the attention of   TPPC.tv!  TPPC.tv is a  Blog for Pet Lovers, Woofy Woo! Pet News, Celebrity Pet Gossip, Dog & Cat Stories and Exclusive TPPC.tv Pet Web TV News for Insiders! In fact they picked TTT's Conservation Cub Club as the Pet Blog of the Week.  ~exciting~
So I now present to you my latest Tiger imitation. Notice the same leg placement,  half opened eyes and the tilt of our heads.  Boy I really made it tough on you today.  But just in case you think I look too thin and that gives away the answer, make sure that you suggest  to my parents that they feed me a little more vanilla ice cream.
OK, take your time, relax and try to decide whether I (me, Gracey, The Tiniest Tiger) am on the left or the right.  God Luck Everyone!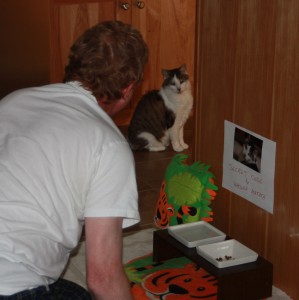 Whoa! Friends, this is not something that I took into consideration when Bad Kitty and I  crafted The Tiniest Tiger's Chow Code Alert Chart.  Quite frankly, one of my parents munching morsels of chow did not even enter our minds as a possibility.
Yet here is my own dad caught suspiciously close to my chow and in an unusual position for a human.  My dad  claims  he was straightening out my Chow Chomping Rug that just came out of the dryer. He seemed to laugh nervously when he realized I was watching him.  He scratched me behind my ears and said "There you go, Gracey.  Your rug is back in place."
"hmmm"

All, I can tell you is this.  The chow level in my bowl upon seemed to go from Code Yellow to Code Orange upon closer inspection.   The rug was still warm from the dryer and smelled all clean like my Slanket when it comes out of the dryer.
Friends, I need your help.
Please let me know what you think about this by participating in our poll. Your answers will help Bad Kitty and I decide whether we need to add a new category to our Chow Code Alert Chart.  Thank you everyone!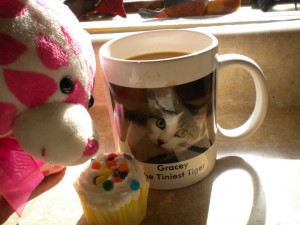 Our Friend Straw Beary Stanley sent me this photo with the message
"Sharing a cup of coffee and treat with my friend Gracey, The Tiniest Tiger."
This message and photo made me smile and feel warm all over.
Thank you Straw Beary.  Thank you everyone for being my Friend!
Wishing you a peaceful restful day.
Happy Tue…well OK, it is Thursday. Have you ever had one of those weeks that just seemed to be half as long as other weeks?  Here were are on Thursday and I feel like it should only be Tuesday.  Do you think it is the heat and humidity?  These dog days of summer can be rough on us Cats!
Sorry to add to your stress level Friends, but please remember this is just for fun.  I know my Tiger imitation is made even more difficult when you are already tired. So take a sip of your thinking beverage and relax while you decide if I (me, Gracey, The Tiniest Tiger) am on the left or the right?  I know, we look exactly the same.  Same sleek muscular bodies, same bright intense eyes, same posture, heck even the same tree!  I am super proud of my latest tiger imitation.
Good Luck Everyone and Meow for Now!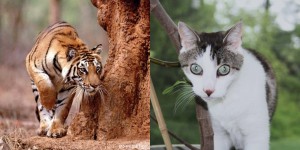 Share
Friends!  The mood music is working now!  Hurrah!!!!  Updated by me, Gracey, The Tiniest Tiger.  Don't forget to crack the DaGracey code for a chance to win a prize!

Friends, I had picked out some really great spy music, but I could not get it to work. ~sigh~
I wanted to get keep our 1st Anniversary Celebration rolling. So maybe you can hum the Mission Impossible theme tune while watching.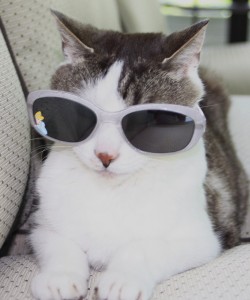 I have placed three secret codes in The Tiniest Tiger's DaGracey Code that I filmed with my Eyenimal camera. You will have to watch closely to find the codes. Once you find the codes, you will be able to complete this sentence:
When I  have my__________ and I can  ____________, I feel like singing ______________.
When you think you have cracked the code, post your answer below in the comments. We will choose a winner from the correct answers with Random Number.
Oh and the prize is a mystery too.  But I think you will like it!  Good Luck Everyone.
Friends, it is our 1st Anniversary Celebration Week! I have games and contests planned for you to show my appreciation of our Friendship. And one of the special surprises is how you can win a Celebrate Your Pet in a Keepsake Bracelet.
Here is the story of how Lisa Taron, The Pet Book Lady rescued me, Gracey The Tiniest Tiger.
Who remembers my gift to my mom for Mother's Day?
That's right! I made my mom some Leaf Lace from a Fig Tree leaf. And I gave her Fage Yogurt, which she loves as much as I do. My mom loved her Leaf Lace and she even pressed it in a big book to preserve it and we ate the Fage yogurt together.
Now some of you, Mary Alice, and I won't mention any names, thought that I gave my dad a better present on his birthday than I gave my mom on Mother's day. So this got me to thinking about my mom's upcoming birthday and what I could make her that is super special and will get approval from everyone.
While resting in my "Thinking Circle", Bad Kitty whispered to me "Gracey, you need the Pet Book Lady."
My mom and dad met Lisa Taron, The Pet Book Lady at BlogPaws. Lisa even rode in the car with them and she didn't have to get into a ~shiver~ carrier. As you can see, Lisa loves all animals too and is known as The Pet Book Lady because she is committed to helping people celebrate the love for their pets through Heritage Makers
My mom couldn't stop talking about Lisa's  Celebrate Your Pet in a Keepsake Bracelet, according to Bad Kitty.  He said  the bracelet would be a perfect birthday present for my mom. Bad Kitty is a genius.
The bracelet is shiny!  I mean who doesn't like shiny silver? And is personalized with up to 6 photos of your choice!  I thought if my mom were choosing the photos,  they would be of me, Gracey. But I also chose one of me with my parents.  Here is the bracelet that I made for my mom's birthday.
I promised Bad Kitty that I would tell you how easy it was to make this terrific bracelet.  Well it was easy for me because Lisa is so willing to help in case you need assistance.  I was doing pretty good but my paw was having trouble with the mouse getting the images centered.  Lisa was so nice, she came to my rescue and told me not to worry. She made sure every image was perfectly centered for the bracelet.  I think my mom is going to love my birthday present.  What do you think?  Is this better than Leaf Lace?

If you would like to pounce on a beautiful bracelet  too you can go to PetBookLady.com which will lead you to Lisa's assigned Heritage Makers site.
You can sign up for a FREE Basic Studio Account. (Look for sign up on the top right of site) From there you will upload your photos. The bracelet project is under Photo Gifts.
Lisa created a You Tube Video (only 10 minutes) that shows us how to make a bracelet. Isn't she terrific?
http://www.youtube.com/watch?v=YJ1rp1lTSbI
What do you think of my birthday gift?  Would you like a Celebrate Your Pet in a Keepsake bracelet?   In celebration of our 1st Anniversary, we are going to give away a bracelet to one of our Friends!  Here is what you have to do:
Post a comment on why you would like to have your own Celebrate Your Pet in a Keepsake bracelt starting now and ending July 24th at midnight (Ohio time).  Lisa and I will then pick a lucky winner by using a random number.
Ready?  Pounce by posting below.  ~exciting~  Good Luck Everyone!
Thank you everyone for being my Friend!
Get ready to pounce  and play during our
One Year Anniversary Celebration Week



The Tiniest Tiger Plays Hide and Seek

The Tiniest Tiger's DaGracey Code

The Tiniest Tiger's Trivia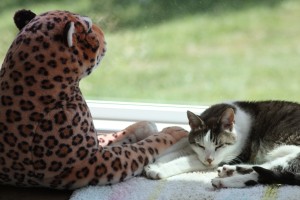 Good Morning Friends!  We had a full day yesterday didn't we?  We were part of Be The Change For Animals blog day.  So many wonderful pet people blogging to make a difference.  We are uniting our paws to make a difference with St. Francis Animal Rescue Center.  Thank you so much for your generosity for our cousins in need.  Already as of this morning, 25 Friends have donated thorough The Tiniest Tiger's ChipIn!
Yesterday we didn't even know our new Friend Peter yet by the end of the day, our The Tiniest Tiger Streak had reached out  to help him throw a rescue net for sweet Fanning in Texas. Peter was overwhelmed by the response.  His message box was overflowing with offers to help.  As of this morning, Fanning will be rescued and fostered until she will be transported to be loved in her Forever Home.  Hurrah!!
Friends, do you know what happens tomorrow?
I have been so busy that I have fallen behind in my preparations.  But don't worry, I have a few things ready for us.  Be on the look out for:
The Tiniest Tiger Plays Hide and Seek

The Tiniest Tiger's DaGracey Code

The Tiniest Tiger's Trivia
Now to get you warmed up....Who can tell me what happens tomorrow?
You MUST type your answer here in the comment section of  this post on the Conservation Cub Club.  Everyone that posts the right answer will be entered to win a copy of The Tiniest Tiger with my paw-tograph. and a photo of me, Gracey, The Tiniest Tiger.  We will choose the number at random.    OK?  Ready, Set…Pounce.
I will be back. Right now I am going to take a thinking break with my best buddy Lazy Leopard. Thank you everyone.  Meow for Now.