Friends!  The mood music is working now!  Hurrah!!!!  Updated by me, Gracey, The Tiniest Tiger.  Don't forget to crack the DaGracey code for a chance to win a prize!

Friends, I had picked out some really great spy music, but I could not get it to work. ~sigh~
I wanted to get keep our 1st Anniversary Celebration rolling. So maybe you can hum the Mission Impossible theme tune while watching.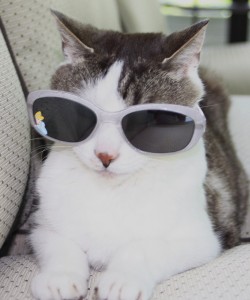 I have placed three secret codes in The Tiniest Tiger's DaGracey Code that I filmed with my Eyenimal camera. You will have to watch closely to find the codes. Once you find the codes, you will be able to complete this sentence:
When I  have my__________ and I can  ____________, I feel like singing ______________.
When you think you have cracked the code, post your answer below in the comments. We will choose a winner from the correct answers with Random Number.
Oh and the prize is a mystery too.  But I think you will like it!  Good Luck Everyone.
[youtube]http://www.youtube.com/watch?v=kjpdg3VRT3U[/youtube]