The  #RedCarpetCat Twitter Party is coming soon!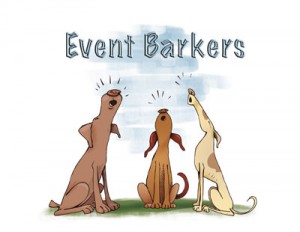 Event Barkers is hosting the party that takes place on Feb. 22 from 5:30-7pm Pacific time. We are super excited that Event Barkers is going to be keeping the party fun and moving because I might get distracted by the flash of the paparazzi while reporting to you live from the red carpet in Hollywood!!
I  will be attending the Secret Room Event  alongside Jackson Galaxy.  We will be tweeting live from the event as we meet and mingle with the stars.  YOU will have the chance to tweet with Jackson Galaxy, star of Animal Planet's "My Cat From Hell"  and  you never know who else might turn up to surprise all of us.
And to make it even more fun, you can win some of the $2800+ in prizes!
Event Barkers wants me to remind you to  make sure  you have RSVPd for this special event. It only takes a moment; just go to the RSVP post and add your Twitter handle. Event Barkers will be using that list to contact winners so you need to make sure you're on the list! (Hey, all good Hollywood parties have the list so here's your chance to be on one!)
We  put together  some great prizes that #RedCarpetCat partiers will be winning! In fact, to keep you rockin' we will be giving away a prize every 1o minutes!  Super Hurrah!
Taking center stage will be The Tiniest Tiger Hipster bag!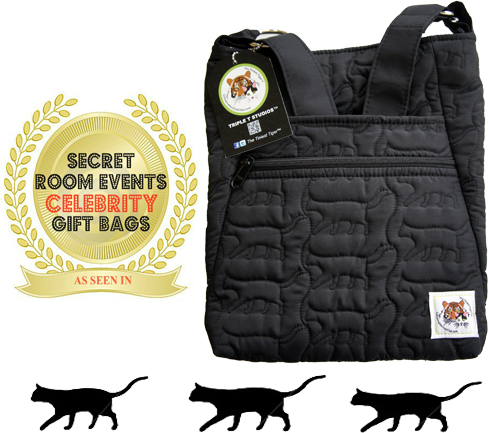 This one of a kind hipster features The Tiniest Tiger's feline finesse quilted into the fabric creating a subtle yet cool cat appearance. The irresistible design combined with the hands free practicality of the cross body Hipster make this the perfect bag when you are on the prowl.

The Hipster is slightly padded providing protection for your iPad, mobile phone, and other essentials. Handy front zip pocket keeps your ID, cash, credit cards and keys secure yet easy for you to access.

A portion of the net profits from Triple T Studios benefits global conservation projects. Triple T Studios has chosen Lion Guardians as the first recipient.

The Tiniest Tiger Hipster Bag is made in the USA.
TEN lucky partiers will win their own The Tiniest Tiger Hipster bags with all the same goodies that the celebrities will be receiving:
The special #RedCarpetCat versions of The Tiniest Tiger Hipster bags will include: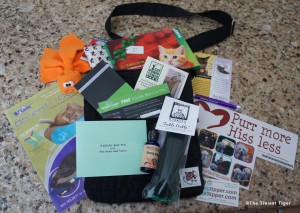 an Iams Welcome Home kit including a new pet care guide, valuable coupons, VPI® Pet Insurance Discount, and Vet Checkup Discount via mail-in rebate! Over $45 in Savings!
a FREE coupon from World's Best Cat Litter for one 7- or 8-pound bag of any World's Best Cat Litter Clumping Formulas
a $50-off coupon from Cat Power Tower, an award-winning tower designed to keep your cat mentally and physically active
a Tickle Pickle™ from TipsyNip Organic Catnip products, stuffed with 100% Eye Crossing, High Potency Organic Tipsy Nip™ (Catnip), made in USA
a 1-ounce bottle of  Stress Stopper  from Spirit Essences, Jackson Galaxy's holistic remedies company. This remedy is great for the occasional, short-duration stresses that an animal faces: trip to the vet, thunder and lighting, fireworks, parties, vacuum and more. Made in USA.
a Birdsbesafe® cat collar ruff, designed to save wild birds from outdoor cats. Made in the USA.
moderncat's ModShaker in a special limited edition GraceyShaker, using The Tiniest Tiger design! Each toy is filled with organic catnip and a special rattle. Made in USA
temporary tattoo from Cattoo Design, easy to apply and remove. Made in USA.
a Prescription Discount Card from Pet News and Views; take this card and a prescription from your veterinarian to any pharmacy to save up to 55 percent.
Imperial Cat, a company that for a quarter-century has manufactured high quality, eco-friendly and all natural cat products developed to enhance the lives of cats and their owners. Coupon Code for Free Shipping. Made in USA.
So, mark your calendars for Wednesday, Feb. 22 from 5:30-7pm Pacific (or 8:30-10pm Eastern, 7:30-9pm Central, 6:30-8pm Mountain) so you don't miss the #RedCarpetCat party!! Gracey will be tweeting photos of the celebrities and you'll have the chance to tweet Animal Planet's Jackson Galaxy. Be sure you're on the RSVP list to get in on this Hollywood party!
And, before the party starts, be sure to join in the pre-party giveaways:
A Rafflecopter giveaway for a $50 gift certificate for The Tiniest Tiger bag or new accessories, the daily giveaway of The Tiniest Tiger book and coloring book, and a $50 gift certificate for Triple T Studios Hand bags and the new "Gracey" Accessories drawn from the RSVP list!