BambùBowl Eco-Friendly Cat Bowl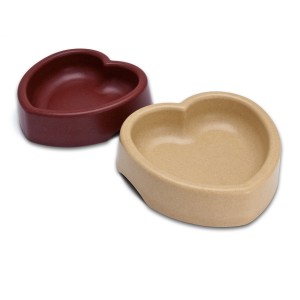 This heart shaped bowl by  Loving Pets is  made from bamboo and corn starch, 100% renewable and sustainable resources.  These bowls are durable and dishwasher safe and feature anti-skid feet to prevent spills and slippage. BambùBowls also have cutouts on the side which allow them to be lifted off the ground with ease.  The bowls are also wide enough to not cause whisker stress for your cat.
Made from 100% renewable & sustainable resources
Durable & dishwasher safe
Easily lifts with side cutouts
Loving Pets Heart Shaped Bambu Bowl
 is available for sale on Amazon.com
BambùBowl Giveaway
The BambuBowl is sustainable, renewable and affordable so we thought it is a perfect bowl for The Tiniest Tiger's Conservation Cub Club to giveaway to a member of our community.  This giveaway is for an Oatmeal colored heart shaped bowl.
To Enter:
Enter your information in the contest widget and leave a comment below telling us what your cat(s) food bowl or plate looks like.
The Rules:
This contest will end on November 29, 2013. Please one comment per person. I will enter all names in to Randomizer.com. The winner will be notified by email or through facebook depending on the contact information you provide. If you connect through facebook, check your Other messages not just your main messages. Make sure you are watching for an email from us. The subject line will say Bambu Bowl winner!    Void where prohibited by law.
Don't miss out on The Tiniest Tiger News :
Subscribe to our newsletter