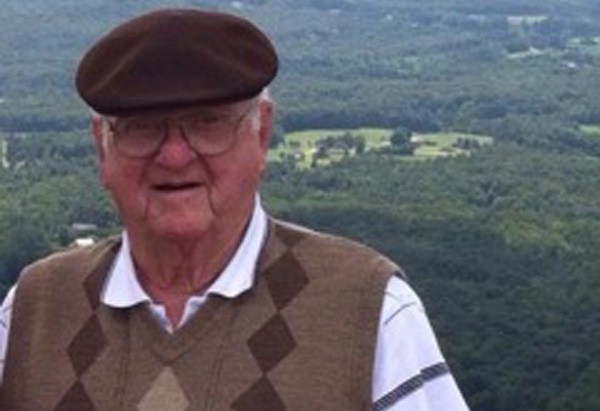 I would see Mr. McTeague in our local grocery store stocking up on Fancy Feast and Tidy Cats. Almost every time I was in the store, he would be there too and this was especially true before a big snow storm.
He would tell me  he was sent to the store to get provisions for the cats, but that there wasn't much on the list to get him through the storm.  Then he would say, I wouldn't laugh if I were you because it looks like you are in the same boat, nodding at my basket full of cat food and litter. It didn't matter how many times we had this  conversation, it made us laugh, and it was understood nobody really forced us to brave the elements to make sure our small family members were taken care of just in case we were home bound for a few days.
Sometimes our timing would be off a bit and one of us would be at the register already lining up the little cans and a couple of jugs of litter on the conveyor belt.  We always took the time to exchange a few words about our cats and how they have it better than we do.
Mr. McTeague has a great sense of humor and that Irish twinkle in his eye.  You can't help but like him and smile every time you see him.  I remember filing into our church pews at St. Rose back when we were all wearing pretty dresses and hats or veils.  Two Irish-American families with four daughters each sitting on the same side of the church; kindred spirits.
I sing in the church choir and Mr. McTeague still sits with his daughter Barb most Sundays in about the same pew as they did when we were young. Every Sunday he shares some candy with the children of the family sitting in front of him.  You can see their faces light up when he talks to them, the parents as much as the kids.
When I saw him in the grocery store after his wife passed away, he said, "Well, I guess I can't blame my wife for sending me out into the cold to load up on Fancy Feast. I might as well admit, those cats have me wrapped around their tails."  They are good company aren't they, I offered. And he nodded in agreement.
A while ago, I saw Mr. McTeague in the store and he was trying to decide which cat littler to put in his cart. He said, these jugs seem to be getting heavier don't they? And I said, yes, they sure do.
When I was in New York at the Better With Pets Summit, I told  Lorie with Tidy Cats about Mr. McTeague and how the lightweight formula might help him take care of his cats.  Lorie arranged to send not only Tidy Cats and Fancy Feast Coupons but she also sent Sissy and Buddie a new bed and a few toys too.  That was so nice. Cat people are the best, aren't they?  Kindred spirits.