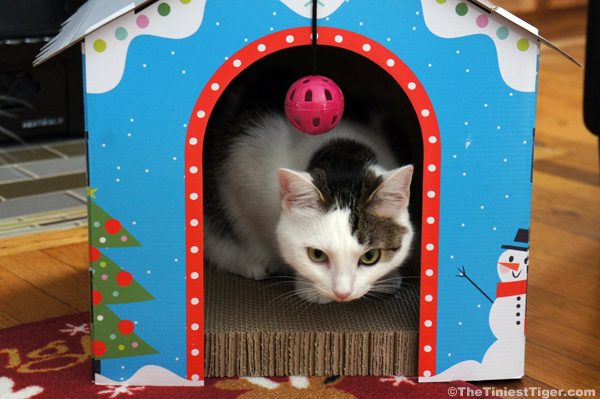 We couldn't resist this Winter Wonderland Cat Scratcher we saw at Target.  It has a scratcher base and the walls and roof are easy to assemble. Paul and I had Eddie in mind when we purchased because he likes cave-like beds so he can feel safe and still see what is happening around him.
As soon as the snow cabin was open for business, Annie jumped at the chance to be the first occupant.  Annie has no fear.  While Eddie and Mercy circled the new addition to the living room, Annie wasted no time entering the cabin.
Eddie stretches  while preparing for a snow cabin takeover.  Annie teases Eddie with her tongue out and decides not to share.
Eddie decides to give up the idea of a forced takeover and since Annie is not in the mood to share, he decides to move on and play with another toy. Annie seemed surprised that Eddie gave up so easily.
Eddie walked off to the sunroom to play with his racetrack while Annie was left all alone in the snow cabin.  She soon decided it wasn't as much fun to be all alone in the cabin and went to find Eddie.
In Annie's absence, Mercy seizes the opportunity to enter the snow cabin. Annie is just a little too late returning to reclaim her spot inside.  After a while, Mercy decides to go into the sun room to watch birds and Annie helps the paper come out of the copier into the tray.
Eddie knows all he has to do is wait.  Like all new things that come into the house, Annie and Mercy are the first to engage, but Eddie takes over and becomes the Prince of the Winter Wonderland Cat Scratcher!
Well….Annie returns to find Eddie inside the snow cabin and unwilling to share. So she simply decides to block his view.  Eddie unruffled by this, is determined to wait it out.  He knows that Annie will soon become interested in something else and he will be able to survey his surroundings from the safety of the snow cabin and perhaps even catch a cat nap.