The Maasai Colorful Beadwork
The Maasai are known for their vibrant dress and colorful beadwork. Each color bead represents a different aspect of the Maasai culture.
Red: Represents bravery, strength, unity and the incredible challenges Maasai people face each day
Blue: Symbolizes energy and sustenance and the color of the sky which provides water for the people and their cattle
Green: Symbolizes nourishment and production, representing the land that provides food for the people and their livestock while also symbolizing the putting down of roots and the protection of one's territory
Orange: Symbolizes warmth,  friendship, generosity and hospitality, representative of the color of a gourd which is used to share milk with guests and welcome visitors into one's home
Yellow: Symbolizes fertility and growth, representing the color of the sun which helps grow the grass to feed the livestock and sustain life
White: Represents purity and health symbolizing the color of cow's milk that provides sustained nourishment
Black: Symbolizes unity, harmony and solidarity, representing the color of the people and the daily struggles they endure each day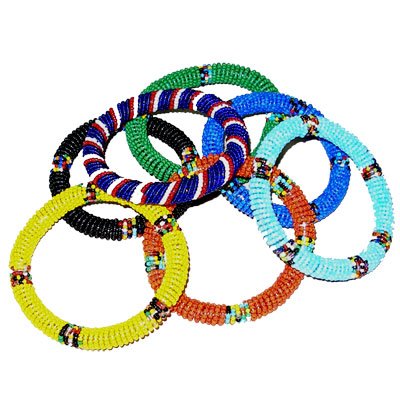 These colorful beaded bangles are fun to wear alone or wear a few or as many as you wish.  These bangles are the perfect accessory to brighten up your wardrobe!
The Maasai Bangles give a little to get over your hand but not too much. Each bangle is approximately 9-11 inches in circumference. Country of Origin: Kenya
Triple T Studios supports The Lion Guardians in Kenya.
To learn more about our support of The Lion Guardians, pounce here: Heart-Warming Letter From Our Lion Guardian
The Maasai Bangle Giveaway
One member of The Tiniest Tiger community will receive 3 of the Maasai Bangles.
If you can't wait, you can learn more about these colorful beaded bracelets pounce here: Fashion With a Passion®
How to Enter
Enter your information in the contest widget so we know where to ship your prize if you win.
Let us know in the comment section below:   What are your Maasai Bangle color preferences?
This giveaway is open to everyone!  Void Where Prohibited