Do your cats have toys that they claim as their own?  If you share your home with more than one cat, chances are you know what I mean.  There is no shortage of toys in our house but Annie and Eddie have each chosen one toy that is their own.  They carry these toys around from place to place, chirp or sing while doing so, and often times hide the toy for safe keeping.
Eddie's favorite toy is his Little Lion.  He guards this lion every day.  I have found the lion in my shoe and in my office under the desk, but mostly he places the lion in Paul's slipper for safekeeping.  Annie's favorite toy is her green worm.  Annie has made this clear to both Eddie and Mercy that her worm is off limits.
But this didn't stop Eddie when he happened upon Annie's worm sitting all alone in the middle of the floor.
This temptation to play with the worm was too strong for Eddie.
Even though he thought about it for a few minutes he could not restrain from the urge to run with the worm.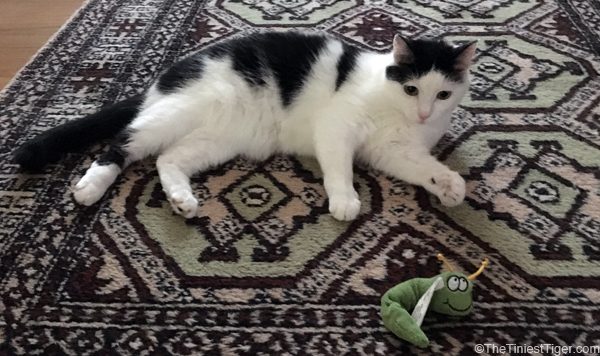 The next time I saw Eddie he was casually lying on the rug with Annie's worm.  He kicked it away from him when he knew I could see him.  I tried hard not to laugh but I couldn't help myself.
When I walked by again, Annie was watching Eddie with her worm and she was not happy.
Annie went into the sunroom to plan how to get her worm back from Eddie.
Mercy wants no part of the kitten feud over the worm.
Eddie took Annie's worm into the sunroom but he seemed to begin to feel badly about taking her favorite toy.  When I checked on the cats the next time, Annie had her worm back in her possession.
Eddie seemed to give up the worm freely and went back to playing with his racetrack.
All was forgiven later when the sunroom was locked for the night.  Annie and Eddie were snuggled together on the sofa ready for a long nap.