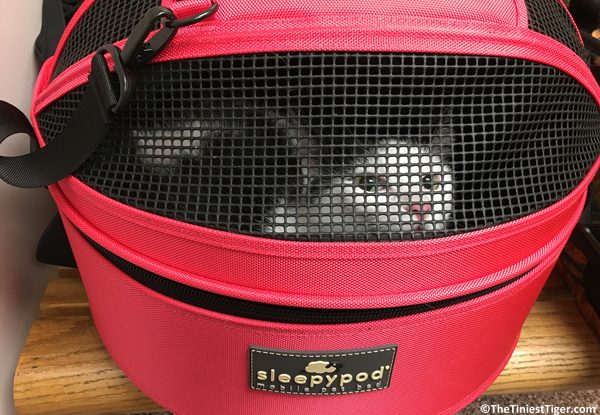 Yesterday was my birthday and we celebrated by taking Annie, Eddie and Mercy for their wellness exams!  We know how to have a good time. 🙂  Usually gathering the three of them into their carriers requires planning and determination.  Annie is easy, she just lets us pick her up and place her into the carrier.  Mercy requires a bit of planning and stealth maneuvers.  But Eddie… he needs to be ambushed. We must place the carrier in a secret location hours if not days prior to departure. Then wait until he is in the sunroom so that we can close the door to prevent an escape. If we are lucky, he will be taking a nap and easily scooped up.  But most of the time we aren't lucky.
Yesterday, we were able to scoop Eddie up first in a swooping ambush while he was napping.  Poor little guy didn't stand a chance.  He went willingly into the carrier simply because I think he was not quite awake yet. Next, Paul was able to pick Mercy up relatively easy.  Mercy chose the SleepyPod for the ride to his wellness exam.  We had left the bottom portion of the SleepyPod out for the cats to nap and get used to seeing it around.  Gently placing Mercy in from the top was much easier than trying to get him into a regular front loading carrier.  We don't have a photo of Mercy inside the SleepyPod because with the black lining he was invisible. I think he likes that.
That left Annie and we knew she would be easy to pick up.  Right?
For the first time, Annie ran around the sunroom, leaping and hiding under the furniture.  It took some time to calmly wait until she came out to scoop her up and place her into the carrier.  We scheduled plenty of time for cat wrangling so we weren't in danger of being late.
During the drive, Annie comforts Eddie.  Eddie cries and shakes until Annie is able to calm him down.  Eventually he quiets down and places his chin on her paws.  Mercy remains pretty quiet unless he begins singing with Eddie.  We arrived early to the office and were lucky to be able to go right in the exam room.
Mercy was first to be examined and because he is 10 now, we requested the IDEXX SDMA test for Mercy.  You can ask your veterinarian for the IDEXX SDMA kidney screening test too.  IDEXX SDMA™ is a breakthrough new test that screens for kidney disease and can detect this serious condition months to years earlier, while there is still time to do something about it. This test is available to all veterinarians via IDEXX Reference Laboratories.
Mercy was complemented on his behavior.  He is such a good boy.  He passed his wellness exam and even his teeth are looking good. Mercy weighs 8.7 pounds.  He has lost some weight over the last three years from being more active running and playing with Annie and Eddie.
Eddie although scared, was well behaved too.  He weighed in at 8.2 pounds.  No problems with his  overall health and his remaining teeth are looking good!  We were hoping for this good news.
Now Annie.  Well.  Even though she didn't try to bite or scratch her medical team, she did plenty of growling and hissing.  Annie's overall health is good too but she will need her teeth cleaned soon.  We were happy to learn that they don't think she will need any extractions.  Annie weighed in at 8 pounds even.  She got a well behaved complement from the medical team too even with the hissing.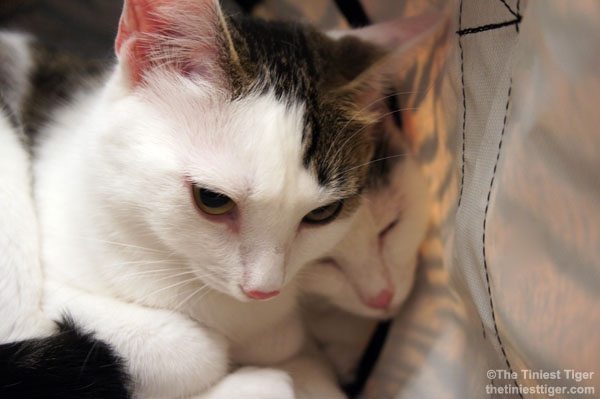 All better.  Back in the carrier together.  Mercy reclaimed the SleepyPod from Eddie.
Yesterday afternoon, we celebrated my birthday by taking a nice long nap and then I was presented with a cupcake by Paul, Mercy, Annie and Eddie.  It was purrfect.