No Tricks, Only Treats!
October is in full swing now, even if we still think it should be about June. 🙂  We are almost ready to put our ghost lights and jack-o-lantern on the front porch.  We love trick or treat in our neighborhood too.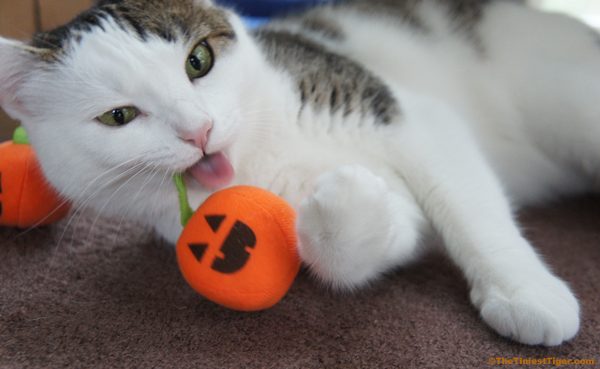 Annie, Eddie and Mercy enjoy playing with their pumpkin toys and watching the kids from the safety of the front windows.
Even if you don't wear a  costume you can enjoy Halloween in our Jet Black with Copper Glitter design Limited Edition Irish Proverb Cat T-shirts.  The copper glitter is much prettier than my photo skills show and the shirt is the same popular ring-spun cotton as  our Green and Charcoal Gray shirts. The shirts are printing now, so pounce soon if you want one, because once they are sold out, they will be out for the season.
The Limited Edition Irish Proverb Cat T-Shirt Giveaway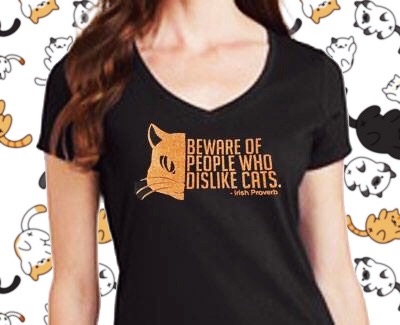 One member of The Tiniest Tiger community will receive our new Copper Glitter Cat T-Shirt from Triple T Studios.
If you can't wait, you can learn more about Triple T Studios here: Fashion With a Passion®
How to Enter
Enter your information in the contest widget so we know where to ship your prize if you win.
Let us know in the comment section below: Trick or Treat?
This giveaway is open to everyone! Void where prohibited.