Recently Bossy Backyard Blue Jay came to visit me in the  Sun Room to  turn in his bird food inventory request list for me to give to my parents. As the weather turns cold, our bird friends rely on us to fill their feeders with all kinds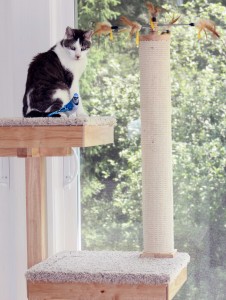 of treats including, sunflower seeds, peanuts, suet cakes, cracked corn and more.
Well when the birds are more dependent upon the feeders, something else happens. Our outdoor cat cousins start to go on the prowl.  My little feathered friend wanted me to remind all of you to keep an eye on the cats that share your habitat.
Bossy Backyard Blue Jay mentioned that it is already October and that means we are fast approaching Halloween!  Many of our human and canine friends wear costumes to celebrate Trick or Treat night but most felines, myself included are reluctant to don apparel whether for Halloween or for any occasion.  I especially do not like anything that restricts my ear movement. ~shiver~ I can't hardly stand to think about it. In any case, Bossy Backyard Blue Jay told me he had come up with a list of what he considers to be both creative and outstanding ideas for cat costumes this Halloween season. He asked me if he could guest post again on our Conservation Cub Club and I obliged.  Remember, his opinions are not my own.  I asked him to narrow his bird brain ideas, I mean his clever costume list to the top 5.  Without further adieu, here is his list.
The Top 5 Halloween Costumes for Cats by Bossy Backyard Blue Jay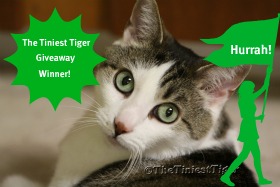 Super Hurrah for Janet Vandenabeele the Winner of the Angry Birds Toys!
Happy September Friends! As a super exciting way to start the month, we  wanted to introduce to you, the all new, Hartz Angry Birds  cat toys!  This past weekend at blogpaws we had the opportunity to learn about these exciting new toys that will be available for the holidays.  Jennifer and Alex from Hartz invited  us  to learn about the fun new toys and they are so nice, they gave us a few toys so that we could share them with you! These toys will be heading to a retail shelve near you in October. But you can get a sneak preview right here with The Tiniest Tiger. Super Hurrah!