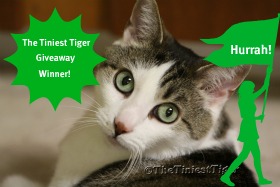 Super Hurrah and Congratulations to Lisa Anne, the winner of
Bossy Backyard Blue Jay's Preoccupy the Cat Giveaway!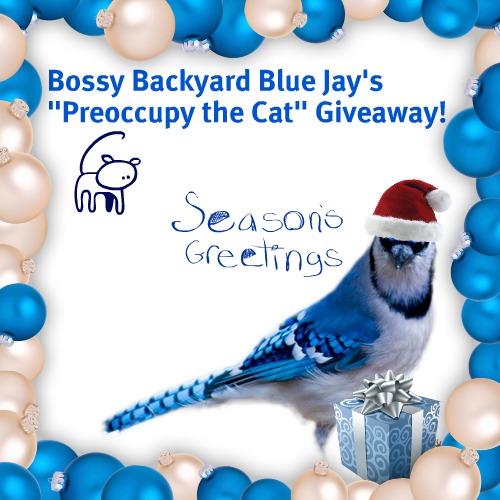 Season's Greetings from the Bird Community. Gracey has informed me that many of you have asked over the past year, how to entertain your cat when you are away from the habitat or even when you come home at night to roost, I mean sleep.
Well, I have spent a bit of time pondering how to preoccupy the feline mind. So, I have put together a few items that I think are just splendid for you to keep your furry friend mesmerized, engaged, and then ready for a nice long nap. And let's be honest, Cats are cutest when sleeping. Aren't they?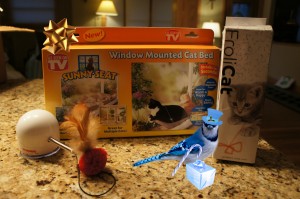 I have included the Amazing FroliCat BOLT™ from Brilliant Pet.
I really think there might be Birds on the Brilliant Pet advisory board because they really came up with the perfect toy to preoccupy the cat.
The FroliCat ™BOLT™ is an interactive laser toy that provides hours of distraction, I mean fun for your feline family members.  You can hold in in your hand or place it on a flat surface and enjoy watching your little bundle of fur pounce, chase and bat at the exciting laser patterns.
Here are the terrific product features:
AUTOMATIC MODE – Moves laser in random patterns for hands-free play session
TIMER – Automatically turns off after 15 minutes
ADJUSTABLE – Adjust the mirror to aim laser across a variety of surfaces
MANUAL MODE – Hold in hand to create unique laser patterns
This is a Bird's dream come true toy for cats!
If you would like to see the FrolicCat BOLT in action click here!
I also added the FroliCAT™ TWITCH™ that allows your cat to play while you are away!
This toy automatically bounces and swings an enticing teaser toy!
Here are the fabulous product features:
SUCTION CUP allows attachment of TWITCH to any smooth surface
ELECTRONIC BEEP signals to your cat that a play session is about to begin
BOUNCING TEASER TOY with ball, feather and bell entices your cat to bat and swing
SINGLE PLAY MODE launches a one-time 10-minute play session
Play While You Are Away™ Mode pre-schedules multiple play sessions throughout the day
If you would like to see the FroliCat™ TWITCH™ in action, click here!
And when your cat is worn out from play, what could be better than a nice place to curl up and nap? I can't think of anything better than a cat napping. Makes me want to whistle with glee  just thinking about it. So I have included the :
SUNNY SEAT -Window Mounted Cat Bed.
This video shows you the Sunny Seat far better than I can explain:
[youtube]http://www.youtube.com/watch?v=EZAfYVE39gc[/youtube]
Am I right?  Your cat is indoors safe , snug and soaking up the sun while we feast at our feeders.  It is really a perfect scenario.  Gracey, The Tiniest Tiger is my friend and I think that we have maintained this close relationship because she guards the backyard from the shelter and safety of the sunroom.   I would like to see your cats enjoy bird watching from inside their habitats too.
Wait what is this?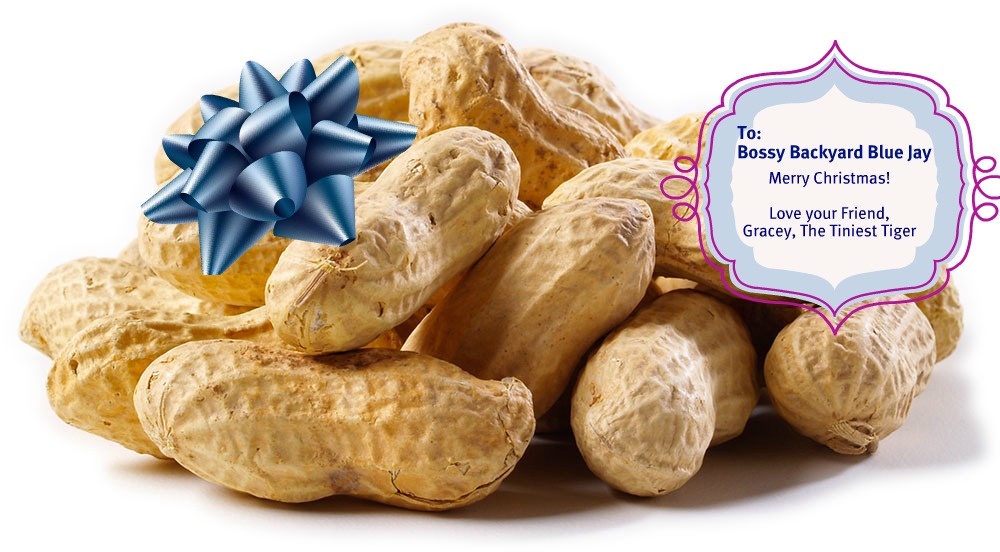 That is really very thoughtful of Gracey. Gosh, makes me want to be nice for the rest of the day. The Tiniest Tiger makes sure that all of our feeders are full through the winter, even the squirrels and white tail deer too. Now I can't help but get into the spirit of the season.
Here is all you have to do:
Leave a comment here below this post on our The Tiniest Tiger's Conservation Cub Club™ telling me Bossy Backyard Blue Jay™ how you keep your cats preoccupied and how much you love birds.
The Rules:
This contest is now closed!  Thank you for participating.
This contest closes on December 21, at 1 pm Eastern. I will enter all names in to Randomizer.com. The winner will be notified by email, so make sure you leave a full name and email address for me. Due to the weight and size of the package this contest is open to US habitats only.  I am super sorry.  Void where prohibited by law.
Don't forget to enter to win a free bag of Science Diet Ideal Balance! Pounce here!