Super Hurrah and Congratulations to Cynthia Downer our Winner!
Thank you to everyone that participated.
Celebrate Summer Cat Quilt Handbag Giveaway!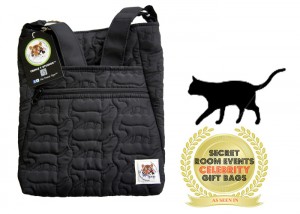 Sweet summer sunshine means you might be on the go more than usual, and we wanted to help you stay ready to roll by
hosting our The Tiniest Tiger Cat quilt Handbag Giveaway!  We now have three bags with feline finesse quilted right into the fabric for a subtle yet cool cat appearance.    These bags don't scream Crazy Cat Lady but whisper I am a Cat Person!
We designed the bags to be stylish and  adaptable just like a cat. Whether you are heading to the beach like our friend Dorian from Your Daily Cute or taking a walk through Central Park like our friend Tamar from I Have Cat, one of our bags will keep looking sleek and stylish  while you are out and about.  The Tiniest Tiger Hipster is the very same bag that rocked the red carpet for the 2012 Academy Awards Celebrity Swag! The Tiniest Tiger Tote will be on the red carpet this September for the 2012 Emmy Awards Celebration.  Now is your chance to pounce on the same cool cat bag that will be strutting the red carpet. Sign up for our The Tiniest Tiger News to stay on top of all the Red Carpet Cat events.
To sing up pounce here: http://eepurl.com/kfoh
Here is all you have to do to increase your chances of winning!
This contest is now closed.  Thank you for participating.
We are using the Rafflecopter for this giveaway. You can choose any of the activities you prefer to increase your chances of winning by earning more entries.  In order to be entered into the contest, you must leave a comment below this post telling me which of The Tiniest Tiger Cat Quilt Bags you would like to win and why.  Easy as taking a nap in the sunshine.
So look for the Leave a Blog Post Comment Below in the Rafflecopter Widget.  Click on it.  Go to our Triple T Studios to decide which of the cat quilted bags you would like and then come back and tell me!  Here is the link to Triple T Studios: Cat Quilt Handbags.  Our bags are made in the USA.  We will ship to our friends anywhere in the world!
Don't forget to enter our Bissell Total Floors Pet Giveaway! Pounce here to enter!