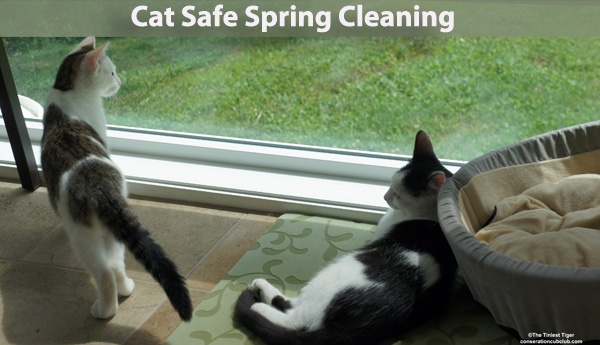 The sunroom is our cats' favorite room in the house.  A friend who visited recently commented that our sunroom looked like a cats equivalent of a child daycare recreation room. The sunroom has the Cat Power Tower along with scratching posts, soft beds for sleeping and many of their favorite toys.  There is also a sofa and love-seat for us.
This room has large screened windows perfect for bird and wildlife watching  but the glass windows need to be cleaned not only to wipe off cat nose smudges and paw prints but also to help keep spiders and other insects out of the room. We only use cat safe cleaning supplies for Spring-cleaning and year round. These non-toxic solutions work great, smell fresh and clean and are often less expensive than chemical cleaners.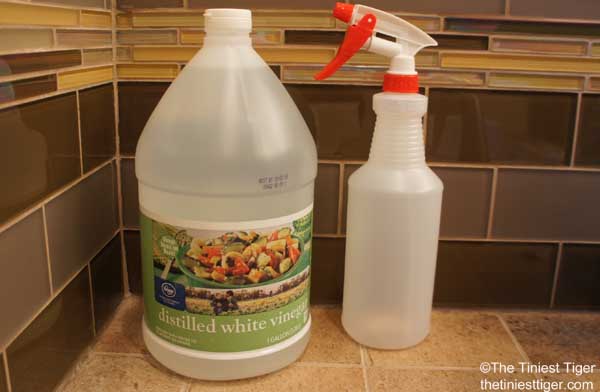 Keeping Spiders and Insects Away
To help keep the spiders away and your cats safe too, use a mix of half white vinegar and half water.  You can use a spray bottle or a bucket to apply the vinegar and water solution to the windowsills.  We use a rag to wipe clean all the dirt and debris that has accumulated over the winter.  This leaves our windowsills clean and inviting to us, but a natural repellent for spiders.
Clean Screens and Windows
We  spray the screens with the 50/50 vinegar -water solution.  Then from the outside use a hose to rinse off the screens.  When the windows are dry we clean the glass with a solution of 1/4 cup rubbing alcohol and 1/3 cup vinegar and water in a 32 ounce spray bottle.  We spray this solution onto a lint free cloth and the result is streak-free clean windows.
Cat Safe Clean Floors
For the tile floor we use our Bissell Symphony All-in-One Vacuum & Steam Mop.  This great machine vacuums and steams clean at the same time!  This lightweight handy tool is one that I use almost every single day.  It is convenient not only for the sunroom but  for the keeping the kitchen floor clean and cat safe.
Once we get started Spring-cleaning one area of the house, we just keep going.  When we see the clean and clear sunroom windows, we realize that the other windows in the house need a good cleaning too.
Cat Safe Clean Bathroom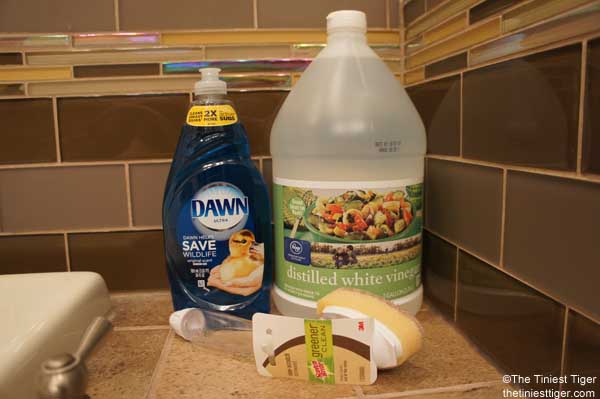 Another room that we like to keep super clean is the bathroom.  We try to keep the cats out of the master bathroom.  Try….to keep them out but Annie wants to be a lifeguard while we shower and Eddie likes to spend the mornings with Paul so we opted for a cat safe clean bathroom too.
Dawn & Vinegar Cleaning Solution
We use a solution of Dawn dish detergent and distilled white vinegar.   We  have used this solution for the last year and our glass shower stays clean and clear.  The soap scum just washes away.
Ingredients:
1 part Dawn liquid (1 1/2 cups)
1 part white vinegar (1 1/2 cups)
1 spray bottle and/or one fillable scrub brush.
Preparation:
Heat 1 1/2 cups vinegar in the microwave for 2 minutes.
Pour vinegar into spray bottle.
Add 1 1/2 cups liquid Dawn to spray bottle.
Shake well.
We keep the solutions on hand and use after showering.  Simply spray on the glass and tile surfaces and rinse the solution off with the shower wand. We keep a squeegee in the shower to wipe down after rinsing.  There is a strong vinegar smell that dissipates quickly, so you might want to keep your exhaust fan running or open a window if this smell bothers you.  This keeps our shower, bathtub and sinks clean without the harsh chemicals.