Rain, Rain, Rain!
It started raining yesterday and has kept right on raining today.  Not even a single ray of sunshine in the sunroom, so Annie decided to camp out with Bad Kitty.  After spending time watching the rain drops splash on the porch, she headed to the cat tent.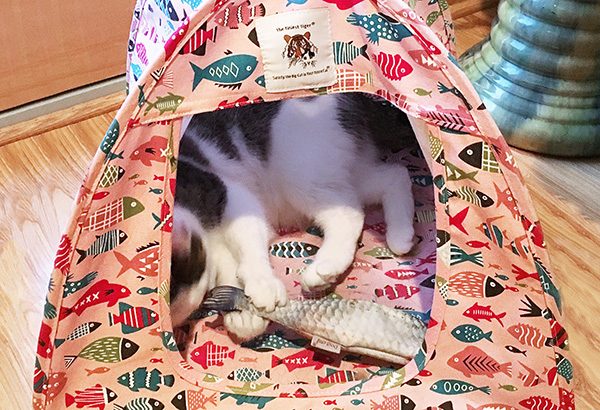 Once she was in the tent she began to play with one of their fish toys.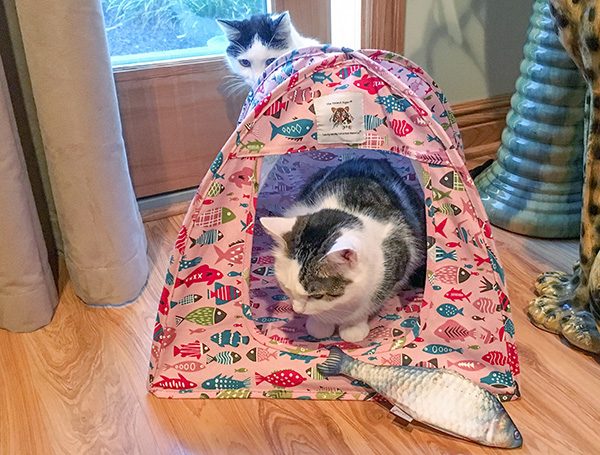 It didn't take long for Eddie to think about getting in on the action.  Annie knew she was being watched.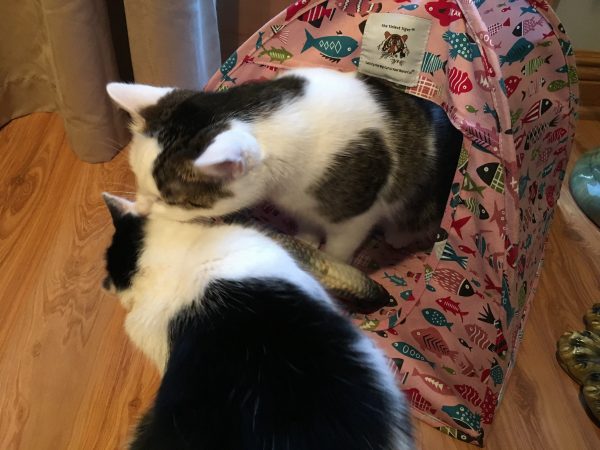 Eddie pounced to steal the fish away from Annie.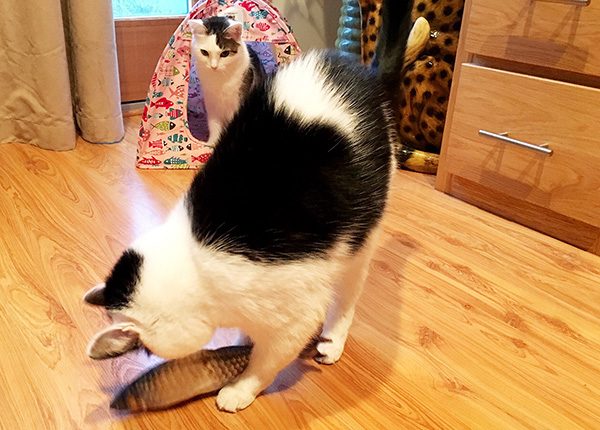 Poor Annie.  She didn't put up much of a fight but she still looked a little sad to have the fish taken from her.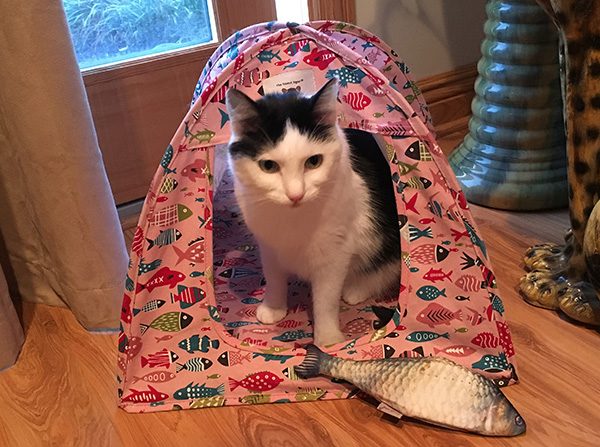 Annie vacated the tent and jumped up on the desk to watch the rain drops again with Bad Kitty.  Eddie didn't seem to enjoy the fish as much after stealing it away from Annie.
Eddie called out for Annie.  She ignored him of course.  He tried again and again.  Don't worry, it wasn't long until all was forgiven and they were best of friends again.  Annie and Eddie would like to share a set of four fish so they are hosting the Four Fish for Cats Giveaway.
The Four Fish for Cats Giveaway!
These big fish cat toys will double as a kicker toy. The colorful printing makes these fish look like the real thing. Soft and perfect size to bit, carry or use as a kicker.  There is a pocket for catnip too.  The fish measure 10″ x 4″.
One member of The Tiniest Tiger community will receive a set of four fish, one yellow, one spotted, one gray and one gold!
If you can't wait to learn more about these fun new cat toys pounce here: Fish Kicker Cat Toys
How to Enter
Enter your information in the contest widget so we know where to ship if you win.
Let us know in the comment section below: Do your cats like kicker toys?  Do they ever tussle over toys?
This giveaway is open to everyone! Void where prohibited.