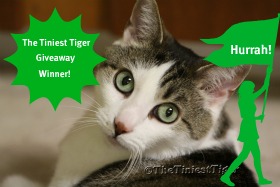 The Winner of our Cat's Pride Fresh & Light Giveaway is:  Malia!  Super Hurrah!
According to our The Tiniest Tiger Curious Cat Survey, over 80% of our community wanted to learn more about litter
options for the cats that share their habitat.  So when I heard about the new  Cat's Pride® Fresh & Light™ premium clumping litter, I thought you would be super interested.
The Cat's Pride® Fresh & Light™ is a new, revolutionary premium clumping litter that was designed to be:
Up to 25% lighter!
Low Dust & Superior Odor Control

Premium Clumping

Reduced Tracking

The Cat's Pride®  Fresh & Light ™   features a premium clumping, low-dust formula that reduces tracking and absorbs odor-causing enzymes on contact. This helps stop odor before it starts and keeps litter boxes fresher, longer. It's up to 25 percent lighter than other scoopable  litters.
We are giving one member of The Tiniest Tiger community:
A 15-lb jug of NEW Cat's Pride® Fresh & Light™ Multi-Cat Scoopable
A $15 Petsmart gift card to purchase food, treats or toys
A reusable tote bag for everyday items
A bag of Temptations® Cat Treats
A copy of Cat Fancy magazine
A coupon for an additional  FREE  jug of NEW Cat's Pride® Fresh & Light
AND
Cat's Pride® will donate 150 pounds of its' New Fresh & Light ™ Multi-Cat Scoopable litter to the animal shelter of your choice.
And
if we get 100 comment, Cat's Pride®  will donate another 150 pounds of their New Fresh & Light ™ Multi-Cat Scoopable litter to my local shelter.
The Rules
Leave a comment about your cat  or your favorite shelter.  I will put all of your names into Randomizer.com to choose one winner. The contest closes this Friday, November 18, at 3 p.m. Eastern.
Comments are now closed! Winner to be announced!
A Second Chance to Win
A similar contest is being held  at Pet News and Views. So you can enter here and at Pet News and Views. Visit Michele, at Pet News and Views  and tell her The Tiniest Tiger  sent you.
Remember, leave a comment in the comments section of this post to win. And thank you for participating!
Don't miss your chance to Win a LIFEFORM3D Image of your Cat. click here for details.
Full Disclosure
Cat's Pride brand has provided The Tiniest Tiger with a gift bag and gift card. Cat's Pride is not a sponsor of the giveaway.