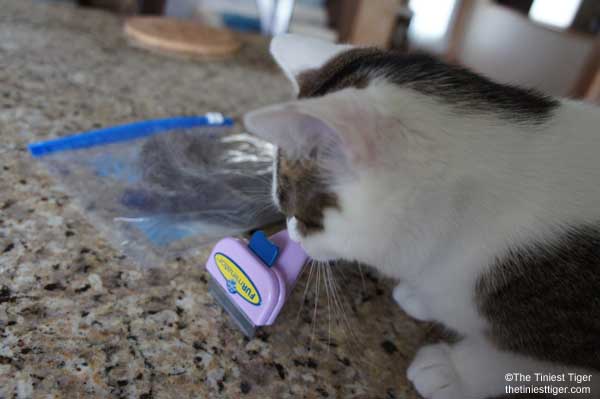 Three Cats Means Three Times The Hair
Annie, Eddie and Mercy bring so much joy into our lives, the fact that they leave cat hair almost everywhere is a small price to pay. Now that the weather is warmer and Paul and I like to join the cats in the sun room,  we try to keep the cat hair on the furniture and cushions to a minimum.  Besides, what if guests drop in?  And no, not allowing the cats on the furniture is not an option in our home.
Thankfully, all three cats don't mind it when I use the FURminator® deShedding Tool. This great tool reduces shedding up to 90% thus helping prevent hairballs.

The deShedding edge Removes Hair Rather Than Cutting
One of the great things about the FURminator is that the deShedding tools edge actually removes hair rather than cutting or stripping the hair. The stainless steel edge reaches deep beneath your cat's topcoat to safely remove undercoat and loose hair.  Their is also a FURejector button that cleans and removes loose hair from the tool with ease.
Annie was happy to come to me this morning for her spa treatment.  And you can really see how much hair was removed from her in just three gentle strokes with the FURminator.   Eddie waited on the stool for his turn and even Mercy likes the feeling when we smooth out his coat from the loose hair.
FURminator Offers Pet Hair Solutions

National Hairball Awareness day is  coming so  our three cats were willing to shed their loose hair. We don't have a hairball problem in our house and perhaps one of the reasons is that we remove their loose hair every week.  Eddie and Annie like to groom each other so keeping the loose hair in check helps us keep them from getting hairballs.
To learn more about FURminator Pet Hair Solutions  and find a retailer near you, pounce here: Where to Buy FURminator.  
This post is sponsored by FURminator. I am being compensated for helping spread the word about FURminator, but The Tiniest Tiger only shares information we feel is relevant to our readers. FURminator is not responsible for the content of this article.