Happy International Cheetah Day!
A special message from Dr. Laurie Marker, founder of Cheetah Conservation Fund on International Cheetah Day.
"I am so excited to write to you today on the 8th annual celebration of International Cheetah Day. I hope you are celebrating the cheetah today with your friends, family, co-workers and everyone you meet. The cheetah really needs our help and the first thing we can all do is to let people know that the species faces some problems. I have been working to save the cheetah everyday for over 40 years, so I am keenly aware of the threats that cheetahs face. Not everyone is.
We need to increase awareness that there are fewer than 7,500 cheetahs remaining in the wild, and that only one in six cubs smuggled for the pet trade actually survive the journey from capture to sale. People need to know that we are losing habitat at an alarming rate and that climate change threatens cheetahs and all animal populations around the world. I want everyone to know about the plight of the cheetah and why we should all work together to save the species. I need your help to spread the word everyday, but I especially need your help today, on International Cheetah Day.
What you can do:
Share the video above with your friends. Link here.
Use our special Facebook frame to change your profile photo for the day.
Visit internationalcheetahday.org to see more shareable graphics sized especially for social media.
Attend one of the cheetah events that are happening near you, make sure to bring a friend.
Read and learn about the cheetah, share the knowledge with someone. The only way we can save the cheetah is by spreading awareness.
Donate to CCF. Right now a group of generous supporters is doubling donations up to $275,000. Make twice the impact by giving before December 31st.
Forward this email to a friend and urge them to subscribe to our mailing list for our bimonthly Notes from the Field e-newsletter.
CCF staff are busy celebrating International Cheetah Day today with farmers, students, and visitors at our Research and Education Centre in Otjiwarongo. We are so grateful for your support as it allows us to continue to operate where we are needed most – helping reduce wildlife conflict, end the illegal pet trade on cheetahs, and protect the habitat in which the cheetah thrives. International Cheetah Day is a perfect opportunity to thank you for helping us create a stronghold for cheetahs in Namibia. We are so grateful for your continued support. Happy International Cheetah Day!
Sincerely,
Dr. Laurie Marker
Founder and Executive Director – CCF"
The Tiniest Tiger Community Supports CCF
Thanks to your support of Triple T Studios, The Tiniest Tiger community is a proud supporter of Cheetah Conservation Fund.  Pounce here to learn more: Dogs Saving Cheetahs

The Cheetahs: A Celebration of Speed and Elegance Giveaway
One member of The Tiniest Tiger community will receive a copy of the new book Cheetahs: A Celebration of Speed and Elegance. By Dr. Laurie Market and Photography by Suzi Eszterhas.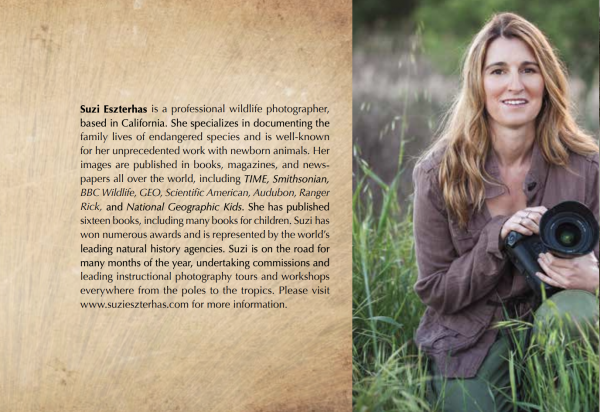 If you can't wait to learn more about this new book pounce here: Cheetahs: A Celebration of Speed and Elegance
How to Enter
Enter your information in the contest widget so we know where to ship if you win.
Pounce here: Cheetah Conservation Fund
Let us know in the comment section below:  What have you learned and admire the most about Cheetah           Conservation Fund.
This giveaway is open to everyone! Void where prohibited.