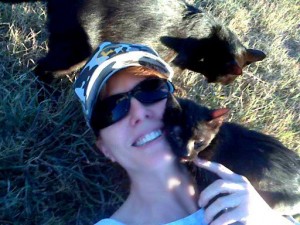 Rita, PurrEver Ranch Sanctuary's sole caretaker calls me, Gracey, The Tiniest Tiger their fairy god-cat.  That is super sweet of Rita to call me that but the truth is, it was all of our small paws uniting that made a difference in the lives of our cousins and Rita at PurrEver Ranch Sanctuary.
PurrEver is a place of refuge for cats that would otherwise perish – the old, the abandoned, the abused, the sick & the suffering. PurrEver takes in the "unadoptable", feeds feral colonies, gentle spirits & soothes broken hearts & bones.  Our Friend Rita works non-stop to ensure each cat lives a great life. She does not take a break! Everybody gets a little tired now and then, so I thought we could help her out by uniting our paws.
Our first Chip-In was a success and Rita replied with tears of joy that we were thinking of PurrEver.  Then when we entered the Bissell MVP contest early in 2010, we never dreamed that our small paws united would rally the votes to win Week 2 of the contest and that  the end result would be that the generous folks at Bissell would enable us to donate $10,000 to our cousins at Purrever.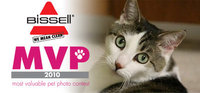 We will continue to support Rita and PurrEver Ranch Sanctuary because unfortunately just like with humans, our older cousins sometimes are forgotten.