The Doc & Phoebe's Indoor Hunting Feeder
Our cats are born to hunt and when they are denied the ability to satisfy this instinctive behavior it might lead to health and behavior problems.  When I saw the Doc & Phoebe's Indoor Hunting Feeder at a pet expo, I was intrigued and thought I would like to give it  a try with our little wild cats.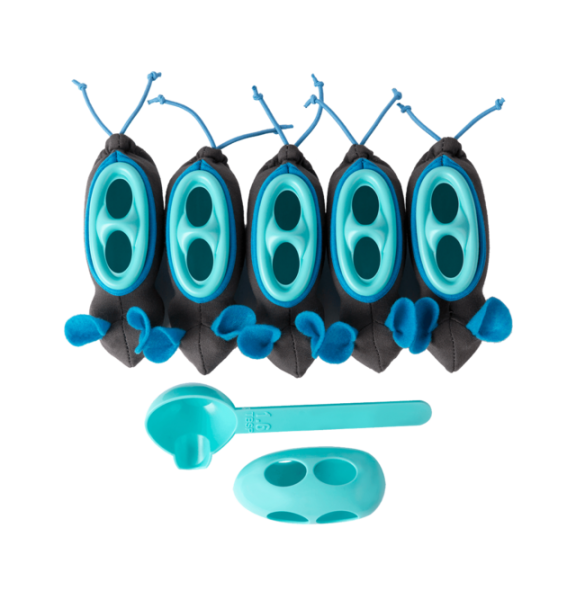 The feeding system comes with five plastic feeders, each one with a removable, washable mouse "skin" that simulates real prey. Just portion out your cat's food into the five feeders and hide them throughout your house. Your cat will use their noses to find each mouse, and pounce and play until the food falls out as a reward.
We have not replaced Annie, Eddie and Mercy's meals with the mouse feeders but opted to add enrichment throughout their day by placing treats inside the feeders and allowing them to hunt down their reward.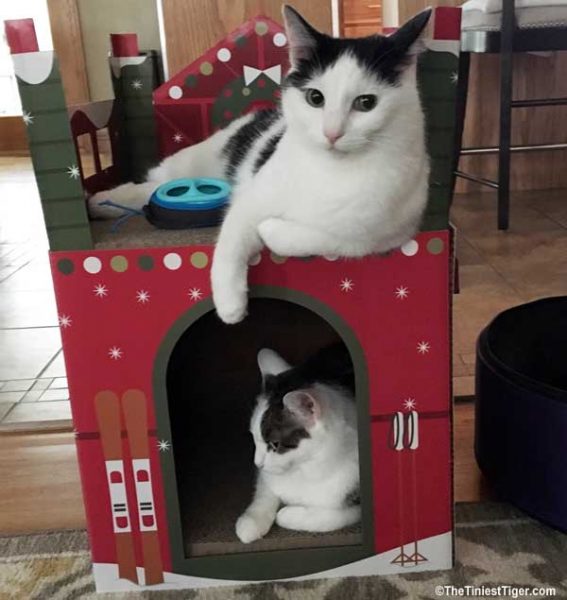 Eddie is the most interested in hunting and playing with the Indoor Hunting Feeder.  This was not a surprise to us as he plays all day every day.  As you can see in the photo above, he is quite proud of his reward after hunting down this mouse.  Annie, however, does not look as amused…does she?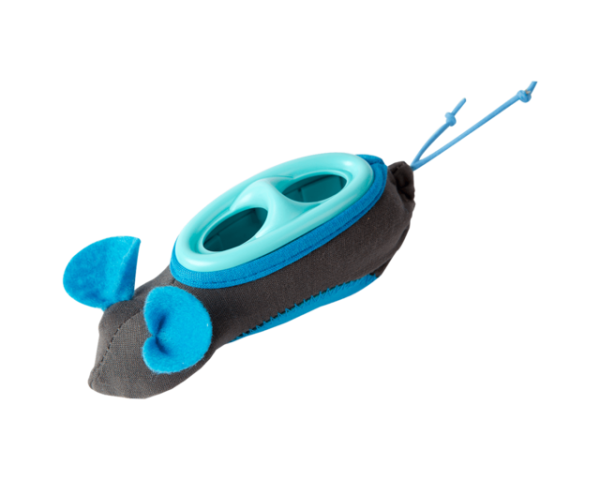 Doc & Phoebe's Indoor Hunting Feeder
The Indoor Hunting Feeder is a complete bowl replacement for one cat. Hunt, catch and play with five small meals a day. Decrease anxiety, reduce the instance of scarf and barf, end early wake up calls from a hungry cat, and correct your litterbox woes with five easy and fun feeders a day.  Give your cat the best science has to offer with a feeder designed for their natural instincts.
Each Doc & Phoebe's Indoor Hunting Feeder includes:
1  Trainer complete with multiple dispensing holes
5 Feeders each with two dispensing holes – designed for any size kibble
5 Feeder Skins designed to simulate the tactile feel of prey allowing your cat to grab, claw and use its teeth as it would in the hunt
1 Scoop which holds 1.6 tablespoons (1/5th the daily ration of an average 10lb cat)
This video explains how Doc and Phoebe's Indoor Hunting Feeder Works

The Doc & Phoebe's Indoor Hunting Feeder Giveaway
One member of The Tiniest Tiger community will receive a Doc & Phoebe's Indoor Hunting Feeder from The Tiniest Tiger
How to Enter
Enter your information in the contest widget so we know where to ship your prize if you win.
Let us know in the comment section below: Do you think your cat will enjoy this indoor hunting feeder?
This giveaway is open to everyone! Void where prohibited.