Halloween Themed Imperial Cat Scratcher Perfect for Autumn Decor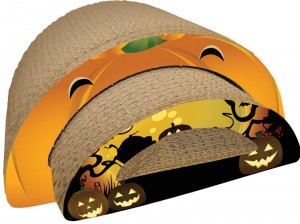 Fall is in the air, the days are getting shorter and soon if you haven't already begun, you will be decorating for Halloween. I know I have officially kicked off the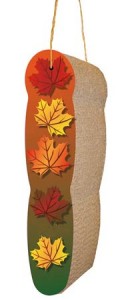 season by drinking a Pumpkin Spice Latte and I noticed that the leaves are just beginning to turn color on one of our trees. This is one of my favorite times of the year. I love the cool nights and the crisp morning air.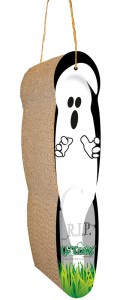 One of the first things Annie and Eddie do when they get up in the morning is stretch and then head over to their Imperial Cat Scratchers. They love the texture that is similar to tree bark and that the material is perfect for visual scratch marking. This is important to a cat. Eddie is a horizontal scratcher, so I know he would love the nesting pumpkin scratcher set and Annie can't decide if she prefers to scratch horizontally or vertically so she would like them all. Maggie likes to scratch the woodwork so we are hoping that we will be able to redirect her to scratch on the Autumn Leaves Hanging Scratcher. This vertical scratcher comes pre-strung so you can hang it on your doorknob right out of the box. All scratchers come with a bag of certified organic catnip too for some extra incentive to attract your cat.
If you prefer a more Halloween theme over Fall, then you might prefer the spooky M.A.X. Ghost Hanging Scratcher. This ghost scratcher is pre-strung and ready to hang over the doorknob too and is sure to help get your habitat in the spirit of the season. The hanging vertical scratchers are approximately 15″ x 4″ x 3 1/4″ H.
Trick or Treat is for Cats Too!
Candy is not for cats but that doesn't mean your feline family member can't get something in their treat sack on Halloween night.
Imperial Cat wants your cat to have a Happy Halloween too. They created three toys stuffed with certified organic catnip to keep your cat happy and not in the mood to play tricks on you. You can choose from a cute Candy Corn, Spooky Ghost or Frankie to put into your cats treat sack.
To Enter Our Halloween Themed Imperial Cat Scratcher and Toy Giveaway:
Enter your information in the contest widget and leave a comment below telling us whether you think your cat is a vertical or horizontal scratcher and which scratcher and which toy you would like the best.
The Rules:
This contest will end on October 7, 2013. Please one comment per person. I will enter all names in to Randomizer.com. The winner will be notified by email or through facebook depending on the contact information you provide. If you connect through facebook, check your Other messages not just your main messages. Make sure you are watching for an email from us. The subject line will say Halloween Imperial Cat Scratcher Winner Void where prohibited by law.
Due to shipping this contest is for United States Addresses only. Sorry! Don't worry we will have another great giveaway for everyone soon.