Boots Adoption Story
Thank you to Helen Woodward Animal Center for sharing this wonderful story of pet adoption from their Most Heartwarming Story Contest . Boot's story was submitted by The Society to Protect Animals, an Iams Home 4 the Holidays participating organization, in 2007.
Happiness for a Blind Kitten
Late one evening, one of our volunteers was driving home. Turning the comer in a quiet neighborhood, she saw a tiny kitten huddled in the middle of the road. The kitten wasn't moving, just cowered, frozen in the darkness.

Our kind volunteer stopped short of the kitten, jumped out and snatched her off the road, minutes from being struck by a car. It was only about a month old!

The tiny kitten was "pointed". Markings described as "pointed" refer to Siamese-like coloring. Cream body and darker colored ears, face, legs and tail. She also had white boots, also described as "snowshoe".

Pretty as the kitten was, she was in horrible condition. Under her striking markings was a skinny, dirty and very unhealthy kitten.

The kitten, nicknamed Boots, was fed and made comfortable for the night, but the next morning revealed the extent of her neglect. Her eyes were horribly infected and she couldn't keep her eyes open. She was totally blind. She had probably followed other kittens into the street and was disoriented when they darted back into their yard, leaving her stranded, alone and sightless.

A trip to the vet brought grim news. The infection was so severe that it had permanently damaged her corneas. She would have to have her eyes removed as soon as she was old enough. She was cleaned up and sent to her foster home with lots of medicine and ointment to start the healing and battle the infection. She had been neglected so long that time was not on her side this time.

One week later Boots was taken back to the vet for a check-up. She looked better, clean and happy. And her eyes were healing a little. Still, her appearance was frightening. It was still the prognosis that she would lose her eyes. Her foster mom would have to keep treating her eyes. Through all of her treatment, she did not seem to be in any discomfort at all. She played constantly with another foster kitten. One might think that she was "normal", but a glance at her face told a completely different story.

At each of her weekly appointments, her eyes showed improvement and it became hopeful that even though blind, Boots' eyes may be saved. It was a miracle to see the transformation and improvement. It seemed like Boots was beating the odds! Then she showed signs of seeing! Her eyes didn't look like normal eyes. They should be blue, but hers were white and scarred. She started jumping off the bed and avoiding running into furniture. She loved to play with the other kitten in her foster home. She was full of life and very happy. With a little help and love, nature will heal her creatures.

Boots has been adopted into a wonderful home and is now named Chelsee. Her name was made up to mean "shall she see". We think she will.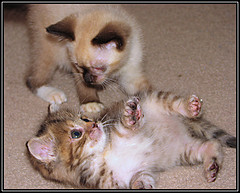 Iams Home 4 the Holidays is an annual pet-adoption campaign dedicated to helping place orphaned pets into happy, loving homes. Started in 1999 by Helen Woodward Animal Center (in partnership with Iams) this is the campaign's 14th year. Working with thousands of participating shelters and rescue organizations from around the world, the campaign has helped more than 7 million pets find loving homes. The pet adoption drive began on October 1 and runs through January 2, 2013.