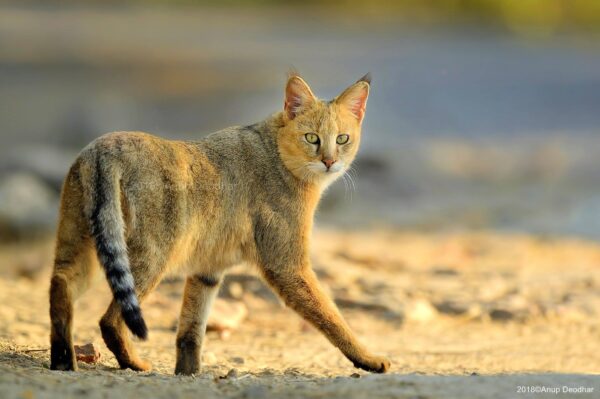 Jungle Cat: Habitat and Behaviour
The Jungle Cat (Felis chaus) is a medium-sized wild cat belonging to the Felidae family. The Jungle Cats are not associated with "jungles" but with dense vegetative cover surrounding wetlands. They are more commonly known as Swamp Cat or Reed Cat.
They are widely distributed across various habitats, from wetlands to grasslands, woodlands, and agricultural lands. This adaptable species is known for its ability to thrive in areas with human settlements, making it an interesting case for studying human-wildlife coexistence.
Swamp Cats have a slender build, with long legs and a short tail. Their fur ranges in color from sandy to reddish-brown and may have faint stripes or spots. They are skilled predators and primarily hunt small mammals, birds, and reptiles. However, their diet may also include insects and fish.
In Indochina, the Reed Cat population is considered threatened due to habitat loss and poaching. Nonetheless, they continue to subsist in farmlands and other human-impacted areas. A study conducted in West Bengal, India, showed that their habitat preference and seasonal distribution are heavily influenced by changes in the environment. Interestingly, the presence of Jungle Cats near human settlements was found to increase during the monsoon season.
The main threats to the Swamp Cat population include habitat loss, human-wildlife conflict, and poaching for their fur and body parts. Conservation efforts focus on preserving their habitat and raising awareness about their ecological importance. With their adaptability and potential benefits for human communities, the continued presence of these wild cats can ultimately help maintain a balanced ecosystem, benefitting both people and wildlife.
Physical Traits
The Jungle Cat (Felis chaus) is a medium-sized wild cat, notable for its distinctive physical traits. In general, its body is slender and elongated, with a length of around 28 to 40 inches, including a short tail that measures about 10 to 14 inches. Males tend to be slightly larger than females, with an average weight of 11 to 35 pounds.
The face of the felid features a broad muzzle and large, well-defined ears that are triangular and tipped with black tufts. These prominent ears enable them to detect and localize sounds effectively, which is critical for hunting prey. Their eyes are large and oval-shaped, with a characteristic yellow-green iris color that provides them with excellent night vision.
The coat of the Jungle Cat is short and dense, typically exhibiting a beige, yellowish-brown, or reddish-brown base color. However, it may also appear in shades of gray or fawn. The fur is often adorned with black markings, which include faint vertical stripes on the upper legs and well-defined rings on the short tail. Some individuals may also have small spots on the body and face, giving them a slightly spotted appearance.
Classification and Subspecies
The Jungle Cat (Felis chaus) is a wild cat species belonging to the family Felidae. This medium-sized cat is commonly found in a variety of habitats, such as wetlands, grasslands, and forests throughout Asia, the Middle East, and North Africa.
There are ten recognized subspecies of Jungle Cat, with their distribution spanning various regions. The subspecies are differentiated based on their morphological characteristics. Some of the notable subspecies include:
Felis chaus chaus: Found in the Middle East to the Caspian region and the Indian subcontinent.
Felis chaus affinis: Native to the Himalayas and found from Nepal to Bhutan.
Felis chaus fulvidina: Occurs exclusively in Southeast Asia.
Felis chaus nilotica: Inhabits the African continent, particularly in Egypt and Sudan.
The classification and taxonomy of the Jungle Cat are subject to ongoing research and discussion, as advances in genetics and phylogeography continue to help refine our understanding of the species and its various subspecies.
They are primarily solitary animals, with their primary diet consisting of rodents, birds, and other small mammals. They are also known for their adaptability to diverse habitats, which has allowed them to thrive in various environments.
It is essential to study and conserve Jungle Cats and their subspecies, as they play a vital role in the ecosystems where they reside. By maintaining a healthy population, these wild cats contribute to a balanced, biodiverse environment that benefits other species inhabiting the same area.
Geographical Distribution and Habitat
The reed cat or swamp cat, is widely distributed across a diverse range of habitats. Its geographic distribution spans from Egypt in the west to Southeast Asia in the east, and covers regions such as the Middle East, Central Asia, Indian subcontinent, and parts of China.
In the Middle East, these cats can be found in countries like Israel, Jordan, Syria, Iraq, Iran, Turkmenistan, and Afghanistan. In Africa, its presence is mostly confined to Egypt. The Indian subcontinent, including India, Pakistan, Nepal, Sri Lanka, and Bangladesh, hosts a significant population of Jungle Cats, as do the Southeast Asian countries of Myanmar, Laos, Thailand, Cambodia, and Vietnam.
Jungle Cats display a high degree of adaptability to various habitats. They primarily inhabit wetlands, including marshes, swamps, and areas near rivers and lakes, where they feed on small mammals, birds, and amphibians. In addition to wetlands, They can be found in a range of other habitats, such as deciduous forests, tropical rainforests, and grasslands. They have also been observed living in agricultural fields and plantations.
Elevation-wise, Jungle Cats are known to occupy lowland areas and have been recorded at elevations of up to 2,400 meters in Central Asia. They are not typically found in high-altitude regions or dense, tropical forests. Their preference for open habitats, such as grasslands and wetlands, allows them to easily access prey and avoid competition with other carnivores.
Diet and Hunting Behavior
The jungle cat is a small to medium-sized carnivore found across a wide range of habitats, from dense forests to grasslands. Its diet primarily consists of various small mammals, birds, and reptiles. This versatile predator employs different hunting techniques depending on the type of prey it encounters.
Rodents like rats and mice make up a significant portion of the jungle cat's diet. They hunt rodents using their keen senses of hearing and sight to locate their prey in tall grass and underbrush. Capturing rodents requires agility, stealth, and quick reflexes from the jungle cat.
Besides rodents, the cat also preys on a variety of birds, ranging from small passerines to larger waterfowl. When hunting birds, jungle cats will usually stalk them from a hidden position among vegetation, using their excellent camouflage to remain undetected. They will then quickly pounce on the unsuspecting birds, often targeting those that are resting on the ground.
Frogs, snakes, and fish are other important components of the jungle cat's diet. When hunting frogs or snakes, jungle cats will use their speed and dexterity to chase and catch their prey. They will usually avoid venomous snakes, which can pose a lethal threat. To catch fish, the agile jungle cat will wade through shallow water, using its sharp claws to scoop up its slippery prey.
In addition to these animals, jungle cats are also known to eat insects, small mammals like hares, and occasionally larger prey if the opportunity arises. They are generally solitary hunters, relying on their individual skills to capture prey.
To summarize, the jungle cat is a versatile predator that employs a range of hunting techniques to capture a diverse array of prey, including rodents, birds, frogs, snakes, fish, hares, insects, and other small mammals. Their adaptability and opportunistic nature have allowed this species to thrive across various habitats, where their varied diet has contributed to their success as small carnivores.
Reproductive Habits
The jungle cat is known for its unique reproductive habits. These cats generally have a defined mating season, which tends to take place during the winter months. During this time, both male and female jungle cats become more active in seeking out potential mates.
Mating in jungle cats involves a series of courtship displays and vocalizations, which help to strengthen the bond between the two animals. Once a suitable partner has been found, the pair will mate multiple times over the course of a few days. Typically, the female will signal her receptiveness through body language and vocalizations, allowing the male to approach and initiate mating.
The gestation period for jungle cats lasts approximately 63 days, after which a litter of kittens is born. Litters can consist of one to five kittens, with the average being three kittens per litter. The mother is highly protective of her young and will provide them with care and nourishment until they are old enough to fend for themselves. At around six months of age, the kittens become independent and may begin to explore their surroundings.
Throughout their life, jungle cats maintain a diverse diet, which includes a variety of prey species such as rodents, birds, and reptiles. Lizards, in particular, form a significant part of their diet, providing essential nutrients for the jungle cat's overall health and reproductive success. As skilled hunters, these cats are adept at capturing their prey, making them well-suited to their various habitats, from dense forests to wetlands.
Behavior and Habits
Jungle cats are known for their solitary behavior, typically avoiding interactions with other members of their species except during mating season. These cats are active mainly during the early morning and evening hours, taking advantage of the cooler temperatures to hunt for prey.
One fascinating aspect of the jungle cat's behavior is its swimming ability. They are adept swimmers and often hunt in and around water, even diving in to catch fish. This unique trait sets them apart from many other felid species.
In terms of communication, jungle cats engage in scent marking as a means of asserting their territories and signaling their presence to other members of their species. This behavior involves the release of secretions from scent glands, which are then rubbed onto surfaces such as tree branches or rocks.
In captivity, jungle cats exhibit a range of activities and stereotypic behaviors. According to a study on captive jungle cats in India, the extent of these behaviors is influenced by factors such as the animals' biological needs and environmental conditions. Providing the cats with appropriate habitats and feeding regimes can help minimize stress and encourage more natural behaviors.
Relationship with Humans and Other Species
The Jungle Cat is a medium-sized wild feline that can sometimes be mistaken for a domestic cat. However, they play a unique role in the ecosystems they inhabit and have distinct interactions with humans and other species. In regions such as West Bengal, India, Jungle Cats coexist with farmers and may provide potential benefits through natural pest control, as they prey on rodents and other small mammals that could harm crops. Farmers in turn may also inadvertently provide shelter and food resources for these cats by maintaining cultivated lands and irrigation structures.
In comparison to domestic cats, Jungle Cats usually show more solitary behavior and have a wider range of habitats, mainly depending on wetlands and grasslands. Domestic cats, on the other hand, tend to have more direct human interaction and live in closer proximity to humans. It is important to note that both Jungle Cats and domestic cats may impact local wildlife through their predation on birds, reptiles, and mammals, which should be considered when assessing their ecological roles.
As for predators of Jungle Cats, some possible contenders include birds of prey, larger carnivores, and larger felids, such as the Caracal (Caracal caracal). Caracals are known to be opportunistic hunters and may prey upon smaller and similarly-sized animals, including other wildcats. While Caracal and Jungle Cat habitats might overlap in some regions, there is limited research on their direct interactions in the wild. However, it is likely that predation amongst these species may be driven by availability of prey and habitat resources.
In summary, the Swamp Cat is an intriguing wild feline species that plays a role in natural pest control and has varying degrees of interaction with humans, domestic cats, and other wild species. While they may provide certain benefits in certain circumstances, it is essential to continue studying their behavior, habitat requirements, and ecological impacts to ensure their conservation and coexistence with human communities.
Conservation Status
The Jungle Cat is currently listed as Least Concern on the International Union for Conservation of Nature (IUCN) Red List. This classification indicates that the species is widespread and adaptable, although local populations may face various threats. Despite its adaptability, the Jungle Cat still faces several challenges.
Habitat destruction is one of the primary threats to the Jungle Cat population. As their natural habitats, which include wetlands, grasslands, and forests, are converted for agricultural or urban purposes, the range of the Jungle Cat becomes limited. This destruction, in turn, reduces the availability of prey and shelter for the species, impacting their survival.
In addition to habitat loss, the Jungle Cat faces risks from hunting, both legal and illegal. In some areas, they are hunted for their fur, which is used to make traditional garments and accessories. Illegal trapping and hunting further exacerbate the issue, as there may be a lack of knowledge about the species' conservation status and restrictions on certain activities.
Efforts towards conserving the Jungle Cat focus on preserving their existing habitats and monitoring their populations. Some regions have established protected areas and parks to ensure the survival of the Jungle Cat and other threatened species. Moreover, ongoing studies on the distribution and characteristics of the Jungle Cat have informed conservation strategies, such as identifying key areas requiring habitat preservation or restoration.
Education and awareness are also crucial components of Jungle Cat conservation efforts. Encouraging local communities to actively participate in monitoring and protecting the species can foster a stronger sense of responsibility and support for the ecosystem.
In conclusion, the conservation status of the Jungle Cat, while not currently classified as a threatened species, requires continued attention and effort to ensure the long-term survival and well-being of this adaptable and vital member of its ecosystem.
Jungle Cats in Captivity
One study conducted in India examined eight captive jungle cats to analyze their blood cells, including haematology, cytochemistry, and ultra-structure. Findings from this study can contribute to understanding the jungle cat's physiology and overall health, which may help improve captive conditions and support efforts in preventing diseases or mitigating stress within their enclosures.
In captivity, these felines show signs of stereotypic behavior and physiological stress, as evidenced by a separate study involving jungle cats housed in three Indian zoos. Addressing the causes and effects of such stressors could enhance the welfare of these captive animals and support the conservation of their wild counterparts.
Also important to consider is the jungle cat's diet, activity, and habitat use. A Cambodian study sought to learn about these aspects by examining hair samples and other data from both jungle cats and leopard cats living in threatened dry deciduous forests. Findings from this research can help improve the management and conservation efforts for these species.
Jungle Cats in Winter
Jungle cats (Felis chaus) are known for their ability to adapt to a variety of habitats, including grasslands, wetlands, and human-influenced environments such as farmlands. During the winter months, these adaptable felines exhibit certain behavioral changes to better cope with the new conditions.
In winter, jungle cats have been observed to make greater use of dense scrub for shelter and hunting purposes. This increase in reliance on dense scrub provides them with additional cover and protection from harsh weather conditions while also offering opportunities to hunt small prey species that seek refuge in the undergrowth.
Although jungle cats are not as active during the winter as in other seasons, they still exhibit a preference for specific habitats. For example, a study conducted in West Bengal, India, showed that jungle cats in winter preferred farmlands, while they were more drawn to human settlements during the monsoon season, and grass fields in other months.
These habitat preferences can be attributed to the availability of food and shelter resources. Farmlands in winter often provide ample prey, such as rodents and birds, which the jungle cats rely on for sustenance. In addition, farmland environments might offer better protection from potential predators and adverse weather conditions when compared to other regions that could be less suitable.
An interesting aspect of jungle cat behavior in winter is their choice of prey. A study in Gomai, Katwa, West Bengal, India observed that ducks were killed more frequently by jungle cats during the rainy season rather than during the winter months. While the exact reason behind this shift in prey preference remains unclear, it is believed to be influenced by seasonal variations in prey availability.
Overall, jungle cats exhibit a high level of adaptability and resilience throughout the winter months. By adjusting their habitat preferences, shelter, and prey choices, these fascinating felines are able to thrive in a variety of conditions, further demonstrating their impressive survival skills.
Jungle Cats and Water
Jungle cats are known for their adaptability and ability to thrive in various environments. One of the key factors that influence their habitat selection is the availability of water sources. These cats are often found in areas close to water, such as wetlands, swamps, and along the banks of rivers and streams. Water plays a vital role in the lives of jungle cats, as it affects their diet, activity, and overall survival.
The proximity to water is essential for jungle cats as it provides a rich variety of prey, including rodents, birds, amphibians, and reptiles. In environments with sufficient water, jungle cats have more diverse diets, which increases their chances of survival and sustenance. Furthermore, the dense vegetation surrounding water bodies offers excellent cover for predators like the jungle cat, enabling them to remain concealed while stalking prey.
In addition to diet, water sources significantly influence the activity patterns of jungle cats. Although primarily nocturnal, these felines are also known to be active during the day in areas with ample water and cover. For example, in the wetlands and swamps of Cambodia, jungle cats display crepuscular and diurnal activity, which is quite different from their behavior in drier, more open environments. This flexibility in activity patterns allows jungle cats to adapt to various habitats, ensuring their survival in diverse ecosystems.
Lastly, water is crucial for the overall health and well-being of jungle cats, as it helps regulate their body temperature, especially in hot climates. During the scorching summer months, these cats may seek refuge near water bodies to cool off and avoid heat stress. This behavior is particularly essential in dry deciduous forests, where extreme heat and lack of water can be detrimental to their survival.
Female Jungle Cats
Female jungle cats display certain unique traits and characteristics compared to their male counterparts. They generally exhibit a lighter reddish-brown coat, which allows them to blend effortlessly into their surroundings. This camouflage is essential for hunting and protecting their offspring in the wild.
In terms of size, female jungle cats are typically smaller than males, but still larger than other small felids such as the leopard cat. This difference in size might be attributed to competition for resources within their habitat and also for avoiding unnecessary conflicts with other animals.
Jungle cats are solitary creatures and not considered social animals in the wild. However, females, specifically, exhibit a greater tendency towards philopatry, which means they prefer to live close to their birthplace. This type of behavior potentially aids in the maintenance and protection of their territories.
Moreover, female jungle cats carry the responsibility of bearing and rearing their kittens. The breeding season usually falls between January and March, with gestation lasting approximately 63 days. The mother will give birth to a litter size that ranges from one to five kittens. She invests considerable time and energy in nurturing and teaching her young to hunt and survive in the wild until they are ready to become independent, typically around six to nine months of age.
From a genetic perspective, researchers have successfully identified male and female jungle cats from scat samples collected across their range. This type of study helps in gaining a deeper understanding of the species' population dynamics, genetic diversity, and ultimately contributes to their conservation efforts.
Frequently Asked Questions
What is the habitat of a jungle cat?
Jungle cats, also known as Felis chaus, can typically be found in a variety of habitats including swampy areas, grasslands, forests, and wetlands. They prefer areas with dense vegetation that allows them to hide and hunt for prey effectively. Customarily, they remain close to bodies of water.
How big do jungle cats grow?
An adult jungle cat's size varies, but on average, they measure between 27 and 39 inches (68 and 100 cm) in length, including their tail. They stand about 14 to 16 inches (35 to 40 cm) tall at the shoulder. Their weight ranges from 8 to 35 pounds (4 to 16 kg), with males typically being larger than females.
What do jungle cats eat?
Jungle cats are carnivorous, with their diet mostly consisting of rodents such as rats and mice. They also prey upon birds, reptiles, amphibians, and other small mammals. Being opportunistic hunters, they will occasionally consume insects and fish when available.
Are jungle cats good pets?
Though jungle cats may appear exotic and intriguing, they are not suitable as domestic pets. They are wild animals with natural instincts and behaviors that do not adapt well to living with humans. They can be aggressive, territorial, and their needs can be challenging to meet in a household setting.
What threats do jungle cats face?
The primary threats to jungle cats include habitat loss, retaliatory killings from farmers protecting their livestock, and commercial hunting or poaching for their fur. Additionally, the decline of their prey populations due to human activities can contribute to their decreasing numbers in the wild.
How does a jungle cat adapt to its environment?
Jungle cats are highly adaptable creatures. They reside in various habitats, from forests to grasslands, and their ability to swim allows them to navigate wetland environments. Their strong sense of hearing aids in detecting prey, even when hidden within dense vegetation. Their agility and stealth enable jungle cats to effectively hunt and thrive in their diverse surroundings.