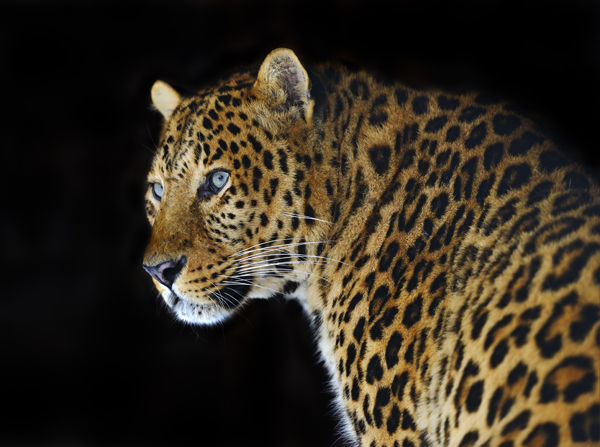 Leopard sound: The Sawing Call
The sawing call is the leopard sound for which the elusive and solitary leopard is known. Among these leopard vocalizations, the sawing call is particularly distinctive and essential for their communication. The sawing sound, often compared to the noise produced while cutting through wood, serves multiple purposes for both male and female leopards.
Males and females utilize the rasping vocalization to communicate their presence and establish their territorial boundaries. In the vast wilderness, leopards need to be aware of each other's locations to avoid unnecessary conflicts or encroachments. The sawing sound can travel long distances in dense forests, allowing leopards to communicate with conspecifics even when they are not in visual proximity.
Apart from territorial marking, the sawing call can play a vital role in attracting potential mates. Male leopards vocalize more frequently and louder than females when searching for a receptive female. By broadcasting their presence, males can draw the attention of females, enhancing their chances of reproductive success.
Leopards have a wide range of vocalizations, including hisses, snarls, spits, and meows. Their vocal repertoire allows them to convey different messages and emotions depending on the situation. The sawing call, while less aggressive than a hiss or snarl, is a dominating and assertive sound. This leopard vocalization is crucial for helping individuals maintain their social hierarchy and navigate the challenges of overlapping territories.
In conclusion, understanding the sawing call contributes to the broader understanding of their behavior, ecology, and communication patterns. This distinctive vocalization is a key aspect of leopards' elusive nature and sheds light on their complex social dynamics in the wild.
Leopards Social Behavior
Solitary Tendency of Leopards
Leopards are known for their solitary nature. Both male and female leopards usually live and hunt alone, occupying a territory which they defend against intruders. These territories can vary in size and often overlap with those of nearby leopards, especially when it comes to resources such as food and water sources. Occasionally, leopards may engage in social interactions or play, particularly with their own cubs or young members of their family. However, for the most part, their solitary lifestyles dominate their behavior within their habitat.
Interactions between Leopards
When leopards encounter one another, their behavior ranges from aggression to tolerance, depending on the circumstances. Males and female leopards may interact briefly during mating season or in overlapping territories. When their paths cross, they may either avoid each other, establish dominance through aggressive displays such as growling or snarling, or engage in non-violent communication like marking their territory with scent or facial expressions. Despite their solitary tendencies, leopards are capable of some level of social interaction when necessary.
Leopards Mating Rituals
The mating process begins when a female leopard enters estrus, a period of sexual receptivity. During this time, the female leopard will emit a distinct vocalization known as the sawing call to signal her readiness for mating. The sawing call sound resembles the noise made by a piece of wood being sawed with a crosscut saw. Interested male leopards will approach the female, and the courtship process begins. This may involve a series of behaviors such as head rubbing, chases, and vocalizations between the two leopards.
During the mating process, leopards will copulate multiple times over a span of several days to increase the chances of successful fertilization. After mating, the female leopard will return to her solitary life, and if the mating was successful, she will give birth to cubs approximately three months later. Once the cubs are born, it is the responsibility of the female leopard to raise and protect them until they are old enough to be independent, usually around 18 to 24 months of age. Male leopards do not typically participate in rearing offspring and may even display aggression toward their own cubs if encountered.
In conclusion, leopards exhibit a largely solitary existence, with brief social interactions primarily occurring during mating season or when sharing overlapping territories. Despite their mostly solitary behavior, leopards possess the sawing call and other complex communication skills and are capable of engaging in social interactions when necessary.
Leopards Habitat and Range
Habitat Preference
Leopards are highly adaptable and can be found in a diverse range of habitats, including rainforests, grasslands, savannas, deserts, and mountains. One common factor in these habitats is the presence of trees, which are advantageous for the leopards as they provide cover for stalking prey, escape from competing predators, and resting places. In Africa, leopards are mostly found in densely forested areas, whereas in India and the Russian Far East, they tend to prefer mixed forests. Furthermore, leopards are known for their ability to adapt to human-dominated landscapes, often residing close to agricultural lands and even urban settlements.
Leopards Home Range
The home range of a leopard varies depending on the availability of resources, prey abundance, habitat type, and individual preferences. Generally, male leopards have larger home ranges than females, which enables them to overlap with several females' territories for mating purposes. In Africa, male leopard home ranges typically extend from 15 to 60 square kilometers (5.8 to 23.2 square miles), while those of females span 8 to 30 square kilometers (3.1 to 11.6 square miles). The home ranges of leopards dwelling in other regions, like India and the Russian Far East, may be considerably larger due to lower prey densities.
Leopards Distribution
Leopards have a wide distribution across Africa, the Middle East, Asia, and the Russian Far East. In Africa, they can be found from the southern tip of South Africa, throughout sub-Saharan Africa, and up to parts of North Africa. In Asia, leopards are prevalent in India, China, and the Korean Peninsula, extending up to the Russian Far East. Over time, their range has decreased due to habitat loss, prey depletion, and human-wildlife conflict, leading to lower population densities and localized extinctions in some regions. However, the adaptability and resilience of leopards have allowed them to maintain a relatively widespread distribution compared to other large felids.
Hunting Tactics of Leopards
Leopards Prey
Leopards are highly adaptable predators, known for their incredible strength and agility. Their primary prey species include medium-sized ungulates, such as antelopes, impalas, and gazelles. However, they are opportunistic hunters, which means they can also feed on smaller mammals, birds, and even large insects when necessary.
Leopards have strong and muscular bodies that enable them to climb trees with ease, making them effective predators in diverse environments. They often use their elevated vantage points to spot potential prey and plan their approach.
Method of Hunting
Leopards typically hunt at night, relying on their keen senses – primarily their excellent night vision – to detect and track prey. Their remarkable stealth and camouflage help them blend into their surroundings, allowing them to ambush prey with high precision.
When hunting, a leopard will stalk its prey, moving silently and cautiously while staying hidden from view. Once the leopard is within striking distance, it uses its powerful muscles to launch itself at the prey, usually aiming to deliver a swift and decisive bite to the neck or head. This initial strike is often strong enough to incapacitate or kill the prey instantly.
For larger or more dangerous prey, leopards may choose a different tactic. After identifying a target, the leopard will leap at the prey from behind, sinking its claws into the animal's hindquarters or back as it tries to bring it down. The leopard may then move to deliver a lethal bite to the throat or neck.
In conclusion, the effective hunting tactics employed by leopards, paired with their remarkable strength and adaptability, allow them to be highly successful predators in a wide range of environments.
Leopards Communication Modes
Leopards are solitary animals, meaning they primarily rely on themselves for survival in the wild. However, communication remains a necessary aspect of their lives, as it aids in important activities such as mating, territorial defense, and warning other animals of their presence. Leopards employ a variety of communication modes to convey their intentions and feelings, ranging from vocalizations including the sawing call to scent marking.
One of the most iconic and recognizable forms of leopard communication is the sawing call – a distinct sound that resembles the noise produced by a crosscut saw. This call serves multiple functions, including indicating territorial boundaries and attracting potential mates. Aside from the sawing call, leopards have a wide range of vocalizations, such as growls used during aggressive encounters and purrs during satisfying or bonding moments.
In addition to vocalizations, leopards utilize scent marking to communicate with other individuals. Scent marking can occur through various methods:
Urine spraying: Leopards often mark their territories by spraying urine on trees, bushes, and other objects in their surroundings. This signals to conspecifics the boundary limits and warns them not to trespass.
Scent glands: Leopards have scent glands located on their cheeks, which they rub on objects as another means to mark their territory. These scent marks also help to advertise and attract potential mates.
Territorial marking with scent is essential for these solitary felids, as it acts as a nonverbal communication method that helps them avoid close encounters and conflicts with other leopards. By effectively marking their habitats, leopards can establish dominance and ensure the necessary resources for survival are available within their territory.
Communication is a crucial aspect of any animal's life, including solitary creatures like leopards. By employing a diverse range of communication methods – from the sawing call to scent marking – leopards can successfully navigate complex social situations, maintain territories, and avoid unnecessary confrontations.
Leopards Conservation Status
Leopards (Panthera pardus) are currently classified as "Vulnerable" on the IUCN Red List. This designation reflects the concerns and conservation efforts to protect these majestic creatures. Their populations are facing numerous threats, such as habitat loss, human-wildlife conflicts, and illegal wildlife trade.
In order to effectively monitor and manage leopards populations, various techniques are employed. One such method is the use of camera traps. These devices, strategically placed in the leopards' habitat, help collect crucial data about their behavior, movements, and overall population density. In turn, the information gathered with camera traps aids in identifying and addressing arising threats in their natural environment.
It's crucial to understand that leopards are not a uniform species, and their status may vary across different regions. For instance, West African forest leopards appear to face a set of unique challenges. Their habitat is densely populated with human settlements, leading to deforestation and habitat fragmentation. Moreover, their estimated population density is considered particularly low as compared to other leopard subspecies.
To ensure the survival and conservation of the entire leopard species, contextualized strategies and management plans must be implemented. These plans ought to be designed based on the specific subspecies and unique challenges faced in each region. By adopting comprehensive and tailor-made conservation approaches, it is possible to protect these beautiful and elusive big cats in the long term.
Frequently Asked Questions
What is the purpose of a leopard's sawing call?
The purpose of a leopard's sawing call serves primarily as a territorial signal to communicate their presence to other leopards and animals in the area. It also plays a role in maintaining social boundaries, as well as informing potential rivals and conspecifics about their location.
How does the sawing call differ from other leopard vocalizations?
Leopard vocalizations vary depending on the context and purpose. The sawing call, characterized by a harsh, rasping sound, is distinct from other calls such as growls, which signal aggression or defensive behavior, and chuffs, which indicate friendly interactions. Additionally, leopards can produce a range of other noises such as snarls, hisses, and purrs, each serving different purposes in their social and predatory interactions.
Can leopards use the sawing call for mating purposes?
Although the primary function of the sawing call is related to territorial signaling, it may also play a role in attracting potential mates during mating season. Due to its loud volume and far-reaching capabilities, it is possible that the sawing call can be used to convey the leopard's presence and location to potential mates in the area.
What is the range of a leopard's sawing call?
The range of a leopard's sawing call can span up to several kilometers, depending on factors such as the individual's size, the terrain, and the presence of other loud noises in the environment. The sawing call's distinctive sound is designed to carry over long distances, allowing it to reach other leopards and animals far away.
Do different subspecies of leopards have unique sawing calls?
There may be subtle variations in the sawing calls of different subspecies of leopards due to slight differences in their vocal structures and regional environments. However, more research is needed to fully understand any significant differences in sawing calls among leopard subspecies.
How does a leopard's sawing call compare to a lion or cheetah's vocalizations?
Leopard vocalizations, like the sawing call, differ from those of other large cats like lions and cheetahs. For instance, lions are known for their powerful roars, which are used for long-distance communication and establishing territory. In contrast, cheetahs produce a variety of sounds, such as chirps, purrs, and growls, but lack the capability to roar or produce a sawing-like call. The sawing call of a leopard, therefore, stands out as a unique form of vocalization among large cats.