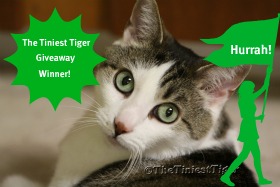 Super Hurrah to Trish Ann B!  Trish is the winner of The Tiniest Tiger Thanksgiving Giveaway of the LIFEFORM3D photo.
As we approach Thanksgiving Week, I wanted to offer you  something super special as a way to say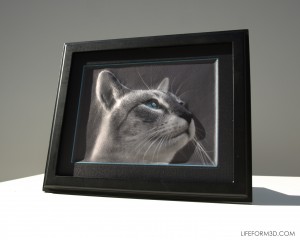 Thank you for being my friend. When Stacy from PetsWeekly introduced me to Travis Mahoney  from LIFEFORM3D, I thought Travis's patented hand made photosculpted images were the perfect Thanksgiving Giveaway for The Tiniest Tiger community.  Your  cat photo is a treasured memory just like I treasure your friendship.
I was able to have a chat with Travis on the telephone yesterday and not only is he talented, he is also super nice and he shares our love of all animals big and small. Travis told me he has a LIFEFORM 3D Leopard photo in the living room of his habitat. (I think I might need to ask my parents for a tiger for my office.)
Travis developed, patented and is the founder  of LIFEFORM3D.  The PhotoSculpt technology is super special bringing your favorite cat photo into a new dimension.
I think Travis conveys the message best in his own words in this video:
[youtube]http://www.youtube.com/watch?v=RagRghgUwE0[/youtube]
My favorite part of the video is when Travis says that his process takes a flat photo and gives it soul.
Handcrafted for the Holidays
Travis will take your cat's photo, and sculpt the image  into a  captivating  3D work of art. Not only is the 3D image beautiful, the feeling that the image evokes seeing your beloved cat in this new dimension is priceless.
Your photo will be  skillfully matted and framed and a brass name tag will be added  to the frame. Your  cat's custom artwork will be delivered to your front door just in time for the holidays if you order by December 1, 2011.
Friends of The Tiniest Tiger will save 10% by using the coupon code "GRACEY"
To order,  visit the LIFEFORM3D website.  Order by December 1, 2011 to receive image by the holidays.
You can also "Like" LIFEFORM3D on Facebook to learn more about Travis and his unique artwork.
The Tiniest Tiger Thanksgiving Giveaway
I am so excited that Travis is offering one reader a FREE LifeForm 3D photo of your Cat!

To enter, leave a comment here  below this post between now and November 24th telling me: I am extending the date to November 28th due to the Holiday Week!

The name of your cat
Why you would like to receive a LIFEFORM3D image from Travis.
Images for Dog Lovers too!
If you would like a LIFEFORM 3D image of your Dog, visit PetsWeekly.  Stacy is offering one of her readers a free LIFEFORM 3D photo too.