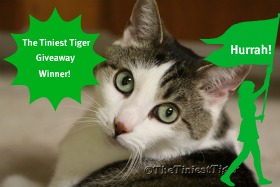 Congratulations and Super Hurrah to Pearl Audrey our winner of the FURminator Giveaway.
Friends, yesterday we learned that  the #1 condition reported by 35 percent of cat-owning households is hairballs!  So today on National Hairball Awareness Day , we are going to learn about how our parents  can  eliminate  the Eww… from our homes by doing one small thing for us. They simply need to grab hold of a FURminator® deShedding Tool and groom us.
The FURminator® helps prevent hairballs  while reducing shedding up to  90%! This definitely  keeps cats happier and healthier and give our tongues a break too. We cats spend up to  30% of our time grooming so when you help us out, most of us appreciate it even if we have an odd way of showing it.
Because the expert groomers at FURmintor® know how much fur comes off of one cat, they rounded up our favorite cat ladies to create a celebrity look alike out of their cat's hair.  You can find all of these creation in the  "FUR Creature" Gallery.  Our friends were wildly creative and quite talented using the cat hair as a medium.  I was not feeling inspired at first and then,  with the support and cheering on of our cousin Romeo the cat, I was able to create my own "Fur Creature" even without thumbs.  Here is my creation.
When you see the marvelous work of our friends, mine looks well, it looks like it looks.  To see all the other wonderful celebrities made of cat fur check out the Fur Creature Gallery on the FURminator's Facebook page.
Enter to Win Your Own FURminator® to Help Your Cat.
I want to celebrate National Hairball Awareness Day with you by giving away  a FURminator® deShedding tool to help groom you cat and help to reduce the hairballs in your home.
Facts about FURminator®  deShedding tool
Effectively reduces hairballs, keeping your cat healthier and happier
Recommended by veterinarians to help prevent dangerous hairballs from developing
Reduces shedding up to 90%
Stainless steel deShedding edge reaches deep beneath your cat's short topcoat to gently remove undercoat and loose hair
FURejector button cleans and removes loose hair from the tool with ease
Guaranteed to reduce shedding better than any brush, rake or comb
Designed by a groomer for professional results
How to Enter
This contest is now closed.  Thank you for participating.
Leave a comment below this post telling me if you think your cat suffers with hairballs and how often.
The Rules:
Contest closes on Tuesday, May 1 at 5 pm Eastern. Please one comment per person. I will enter all names in to Randomizer.com. The winner will be notified by email or through facebook depending on the contact information you provide.  Make sure you are watching for an email from me. The subject line will say FURminator Winner.   Void where prohibited by law.
Don't forget to enter our Hill's Science Diet Hairball Control cat food giveaway! Pounce here.
Disclosure: I was given a FURminator® deShedding tool  by the company but no other compensation.