Neato Robotics Vacuum is "Best For Pets"
A couple of weeks ago we talked about the Neato Robotics Vacuum .  and how this powerful little vacuum  has been consistently reviewed as "Best For Pets" by industry experts.  The Neato Robot Vacuums are recognized for their smart  navigation, powerful suction, design features and brushes to clean hard to reach spots and they work incredibly well for pet hair and dirt across a variety of floor surfaces.  In fact the Neato Robot Vacuums have been dubbed "Best For Pets" by industry experts and publications  such as DailyTekk, PC Magazine and PetGuide.
This Vacuum Eats Cat Hair For Lunch
The Neato Robot Vacuums are automatic and you can schedule your Neato to run daily.  We know how much our cats love keeping to a schedule so this vacuum might just be the answer to keeping up with your cat hair and getting your cat adjusted to a daily routine of vacuuming.
These robotic vacuums have no winding cords and are bagless. And no more dust and dirt particles hanging around because this powerful little vacuum can pick up dust and dirt particles up to .03 microns!  This little vacuum eats cat hair for lunch!
Cross Vacuuming Off of Your To Do List!
Both Paul and I have allergies so we have a carpet free home, but that doesn't mean we don't get the accumulation of cat hair tumbleweeds blowing across the floors.  We do our best to vacuum daily to keep up with cat hair, dust and dirt but some days we just don't get it done. I would love to be able to cross vacuuming off my to do  list and let the Neato Robot take over for me.  Wouldn't you?
The Official Shed Solutions Guide
Tips, tricks and shedding solutions to help make your life easier can be found in the Shed Solutions Guide.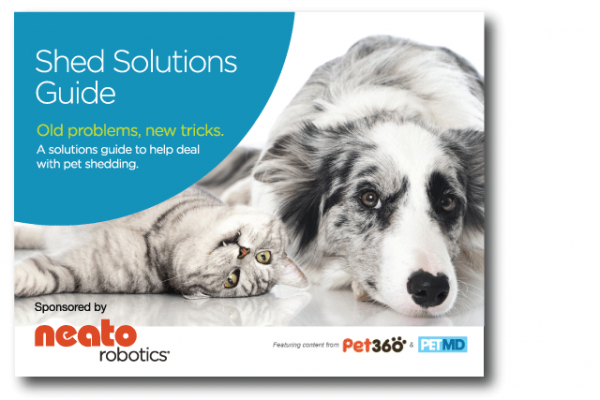 Enter to Win a Neato Botva 85 Vacuum
Enter to win a Neato Botvac 85 Vacuum, valued at $599. Just fill out the entry form below or click HERE to enter on the Neato Robotics site.   Sweepstakes official rules are  located by clicking on the link on the entry form.  You can enter once per day until the contest closes on December 2, 2014.
What would you love the most about the Neato Botvac 85 Vacuum?