This post is sponsored by Purina. We are being compensated for helping spread the word about the new Purina Pro Plan Veterinary Diets EN Gastroenteric Naturals formulas, but The Tiniest Tiger only shares information we feel is of interest to you.
Our cat Mercy needed to make some adjustments over the last year.  Not only did he move in with us, when he was used to spending most of his time alone with Paul's mom, he suddenly found himself sharing a home with two other cats.  All three cats get along but we noticed  Mercy started grooming more than usual and we thought it might be from the stress.
When he began to throw-up a little more often and that gave us even more cause for concern.  Our veterinarians couldn't find anything medically wrong with Mercy, so we decided to keep an eye on him and try to ease his tummy with a diet easier on his digestion.
 The Symptoms of Gastrointestinal Upset
Gastrointestinal upset is one of the most common reasons cats are brought in to see their veterinarian.  There is a wide range of symptoms for a cat with a digestive problem.  Some of the most common are:
loss of appetite
excess gas
vomiting
constipation
diarrhea
difficulty swallowing
Causes of Cat Digestive Problems
A gastrointestinal disorder can impair your cat's ability to digest and absorb nutrients. The disorder can be caused by many factors, including:
an abrupt change in diet
trauma
eating something they should not have eaten.
toxins
foreign objects
parasites
medication
infectious agents
Treatment For Your Cat's Digestive Problem
Your veterinarian will determine the best treatment for your cat's digestive problem. This treatment could be dietary management, medical management or surgery. Since cat digestive issues can irritate the stomach and intestine your cat will need a diet that is easily digested to help ensure they get the nutrient balance needed to support their recovery.
Purina® Pro Plan® Veterinary Diets EN Gastroenteric® Naturals™ Feline Formula with Added Vitamins & Minerals.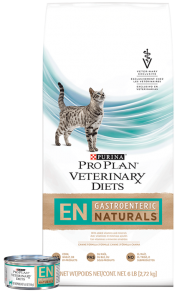 Purina Pro Plan Veterinary Diets new EN Gastroenteric Naturals Feline Formula with Added Vitamins & Minerals offers dietary benefits that provide optimal nutrition while meeting your cat's special needs. This new food is high protein, low carbohydrate, moderate fat and has excellent palatability. You will need your veterinarian's approval to purchase this new food for your cat.
Two Free Coupons Available
If your cat is suffering from digestive upset and you think this food may help your cat, I have two coupons for a free bag of the new EN Gastroenteric Naturals Feline Formula with Added Vitamins & Minerals.  Just leave a comment below this post telling me that you would like to try this food for your cat.  If there are more than two requests, I will choose using randomizer.com.
To learn more about Purina Pro Plan Veterinary Diets:
Website: www.proplanveterinarydiets.com  
Facebook: https://www.facebook.com/PurinaVeterinaryExchange
Twitter: https://twitter.com/PurinaVet