The Tiniest Tiger Paperback

Book Description
Children and adults will revel in this charming and brilliantly told tale of a forlorn and scruffy little kitten with a black stained nose and a striped tail that tries to find a home among the "big" cats that reside at the local zoo. Young readers will especially delight in this truly literary and fully illustrated lesson that advocates the protection of endangered species. When a stray kitten loses her way and is displaced from the only alley she has ever known, she squeezes her tiny body under the fence at the zoo and begins a long and tireless hunt for a home. Her search leads her to a tiger and into a lion's den by way of a cheetah, clouded leopard, puma, jaguar, bobcat, and an ocelot. She learns a lot about what she isn't, but gets no closer to finding a home until she is spotted by the zookeeper's daughter and learns that there is truly a special spot for every cat—even the tiniest tiger—under the sun.
Book Reviews
About the Author
A small business founder and owner since she reluctantly left college, Joanne was fortunate to sell off a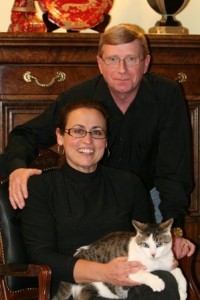 specialty frozen line she developed to a private equity group.
During nights of insomnia while worrying about the woes of business ownership she wrote The Tiniest Tiger an educational fiction story that compares and contrasts the similarities and differences of big cats. Key facts are added to the illustrations to pique curiosity in the reader to learn about the conservation status of each cat.
The Tiniest Tiger was  selected as part of the Kuder Galaxy, an e-learning curriculum in 10,000 schools reaching approximately 3,000,000 students.
A portion of the proceeds from the sale of The Tiniest Tiger are being donated to conservation projects for endangered wild cats.
Joanne is currently working on the next book in The Tiniest Tiger series.