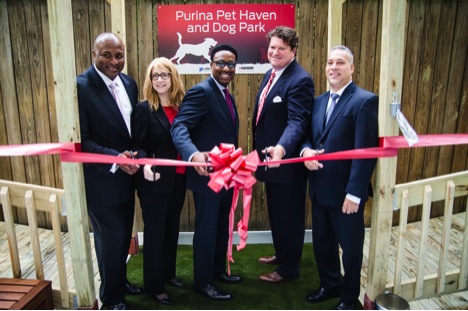 This post is sponsored by Purina. I am being compensated for helping spread the word about this groundbreaking dog park in a domestic violence shelter, but The Tiniest Tiger only shares information we feel is relevant to our readers.
Purina Pet Haven is Manhattan's 1st Dog Park in a Domestic Violence Shelter
The Urban Resource Institute (URI) and Nestlé Purina PetCare (Purina) recently celebrated the creation of Manhattan's first-ever dog park located in a domestic violence shelter. The new dog park is located at Urban Women's Retreat (UWR), a emergency shelter that is part of the URIPALS (People and Animals Living Safely) program.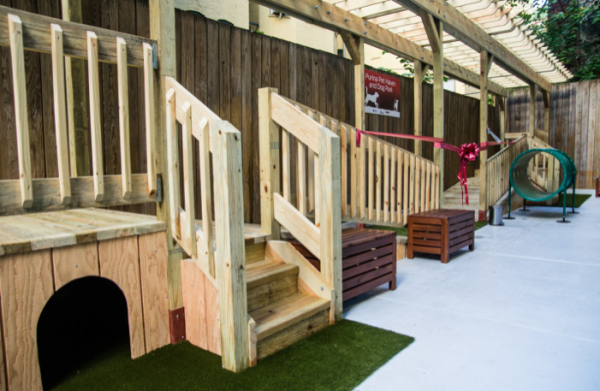 URIPALS is the only New York City domestic violence shelter and one of only a few in the United States that allows domestic violence survivors to live in the shelter with their pets. URIPALS has assisted 43 families with 63 pets, including 38 cats and 18 dogs as well as smaller animals such as reptiles and fish.
With the recent ribbon cutting ceremony for Purina Pet Haven, the shelter now features a dog park, for families to enjoy play time with their pets as they plan for their future.  The opening of the new dog park builds upon Purina's previous support of the URIPALS program. In the spring of 2014, Purina also sponsored the creation of the Purina Play Haven at URI's Safe Haven shelter in Brooklyn, the first-ever dog park at a domestic violence shelter in New York City. Since its opening, the park at Safe Haven has served as a vital component in the healing process for a number of families and their pets.
"Through the URIPALS program we have witnessed first-hand how important it is for survivors to have their beloved pets by their side while they heal," said Nathaniel Fields (center in top photo), President and CEO of URI. "From early on in the URIPALS program, Purina has been committed to supporting survivors of domestic violence and their pets. We know that the new dog park will play an integral part in helping our clients heal, and for that we are extremely grateful to Purina."
Domestic Violence Victims Stay Out of Fear for Their Pets' Safety
Studies show that as many as 48% of domestic violence victims stay in abusive situations out of fear of what would happen if they left their pets behind, and more than 70% of pet owners who enter shelter report that the abuser has threatened, injured, or killed family pets.* Among New York City's 50 domestic violence shelters, URI is the only one that accommodates pets, filling a critical gap by addressing the unique challenges families with pets face.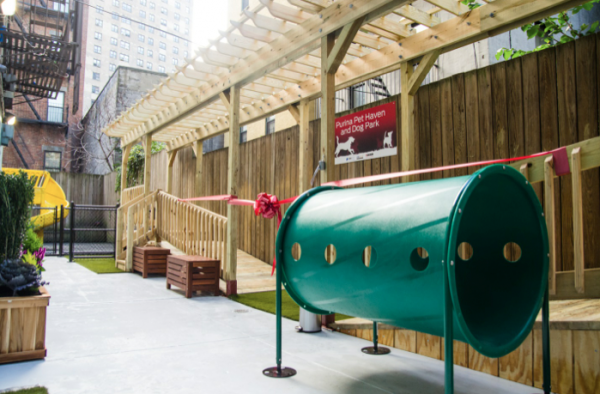 As part of their support for the URIPALS program,  Purina is also donating Purina ONE brand dog food, Purina Cat Chow brand cat food, dog treats and cat litter. Purina is working with URI to provide welcome kits to the families with products ranging from pet travel carriers to pet beds, safety gates, bowls, cat scratching posts, leashes, and pet toys.
"For most pet owners, the bond with their pet is incredibly strong, and for people in abusive relationships their pet can be an important source of comfort," said Dr. Kurt Venator (fourth from the left in top photo), Purina veterinarian. "Purina is very proud to support the Urban Resource Institute in its efforts to keep families and their pets together during this time of healing."
To learn more about URI visit: www.urinyc.org
Photos courtesy Purina
* http://www.aspca.org/fight-cruelty/report-animal-cruelty/domestic-violence-and-animal-cruelty