The Emmy Paw-ty continues on into October  with The Red Carpet Cat VIP Blog Tour!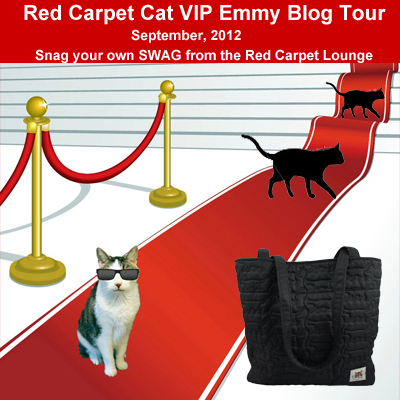 Triple T Studios Bags are  Filled with MeWow and Savings to Bark About!
Pounce over to your favorite blog to celebrate with your friends as we continue  the  Red Carpet Cat Event.  You won't want to miss out on your chance to win your very own  The Tiniest Tiger Tote or The Canine Cool Hipster,  the very same bags  that are in the 2012 Emmy Awards Celebrity Gift SWAG.
And to make winning The Tiniest Tiger Hipster Bag even more exciting, the Hipster is filled with all kinds of feline fun and canine cool products and savings from your favorite brands and bloggers!
Your favorite bloggers will be posting up their own party inviting you to enter to win.  Stop back by for updates for where and when to pounce to participate.
The A List of Paw-ticipating Bloggers:











The Purr Diaries

Zee & Zoey

Rumpydog.com

Romeo the Cat