Satisfy Your Cat's Hunting Instinct
Your cat is hard-wired to hunt yet many cats living indoors might find themselves bored and that is when they get into mischief. Cats need to explore, chase, pounce and prey to be happy. One way to help satisfy your cat's true nature is by introducing an interactive feeder.
The AiKiou Stimulo Interactive Feeder
The AiKiou Stimulo cat tube feeder has 9 different openings that are adjustable with different tube lengths. This simulates a natural game for cats like searching for prey. The interactive feeder was designed to help your cat maintain a healthy activity level and slow down their ingestion which helps reduce vomiting.
This interactive feeder is easy to fill and is made of food grade plastic that is dishwasher safe. The AiKiou Stimulo was redesigned this past year reducing energy for transport by 20%, plastic by 10% and cardboard by 17% making the new eco-design better for the environment.
The AiKiou Stimulo was one of Gracey's favorite play time activities. I had video of Gracey playing with her interactive feeder that I hadn't shared and thought why not put it together to demonstrate how the AiKiou Stimulo can bring out and satisfy your cat's hunting instinct.
The Aikiou Stimulo Giveaway
We are giving away one AiKiou Stimulo Interactive Feeder to a member of our The Tiniest Tiger community.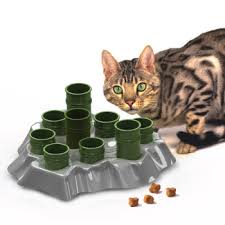 To Enter:
To enter add your information in the contest widget.
Come back and leave a comment below telling us how you satisfy your cat's hunting instinct
Important! To be fair, you must leave a comment to be eligible to win. We do check the comments when a winner is drawn. If there is no comment, we draw another name.
The Rules:
This contest will end on February 23, 2014. Please one comment per person. I will enter all names in to Randomizer.com. The winner will be notified by email or through facebook depending on the contact information you provide. If you connect through facebook, check your Other messages not just your main messages. Make sure you are watching for an email from us. The subject line will say AiKiou Stimulo Winner. Void where prohibited by law.