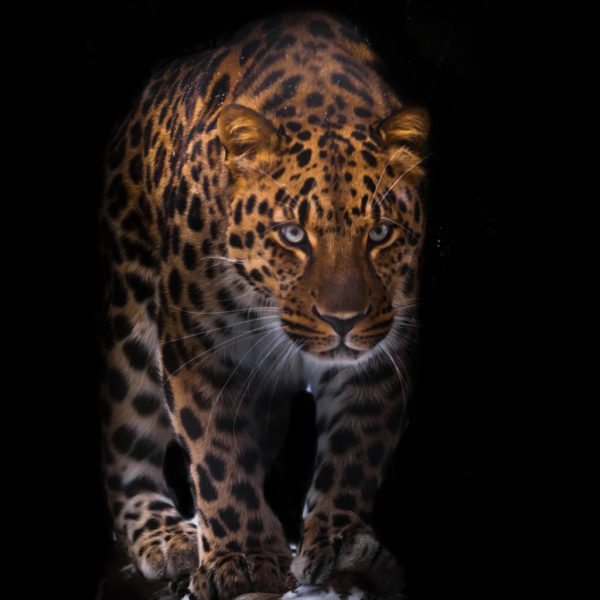 Should fashion pay a royalty for Leopard print?
Should fashion pay a royalty for leopard print? For tiger stripes? For cheetah spots? Leopard print is so widespread in fashion, the cat's rosettes are considered by many a neutral that one can combine with other prints. Leopard print's hold on fashion is thought to be unique as fashion trends are typically volatile and follow a life cycle of popping up on the runways then filtering down to the mainstream before fading away. However, leopard print showing up seemingly everywhere on the Autumn 2022 runways solidifies the cat coat as a classic print now considered an acceptable aesthetic for all occasions.
Leopards themselves are not on the rise, but are in a dramatic decline across Africa and Asia. As the demand for cat prints and textiles replicating the gorgeous rosette pattern increases, leopards have silently disappeared from more than 75% of their historic range.
In a recent study, Connecting the spots: Leopard print fashion and Panthera pardus conservation published in the Journal for Nature Conservation, the research team found that even though the leopard print's popularity is driven by fashion clothing and accessories, there was little evidence to show the leopard print fashion accessories spark interest in the declining leopard populations and the extinction crisis. In fact, in traditional media, mentions of the leopard print in association with the leopard's conservation status were less than 2%.
Disconnect Between Fashion and Living Leopards
There is a huge disconnect between those who design, sell, buy and wear leopard print with the status of the big cat. Beyond awareness is determining whether the industry cares about leopards.
Leopards are highly adaptable cats and the irony that leopard print is embraced for the beauty of the cat's coat and for the versatility of the coat pattern in fashion is not lost on wildlife conservationists. Sadly, even this affinity for the leopard's coat pattern does not seem to lead to awareness of the big cat's endangered status or support for their conservation.
Is Fashion an opportunity for big cat conservation?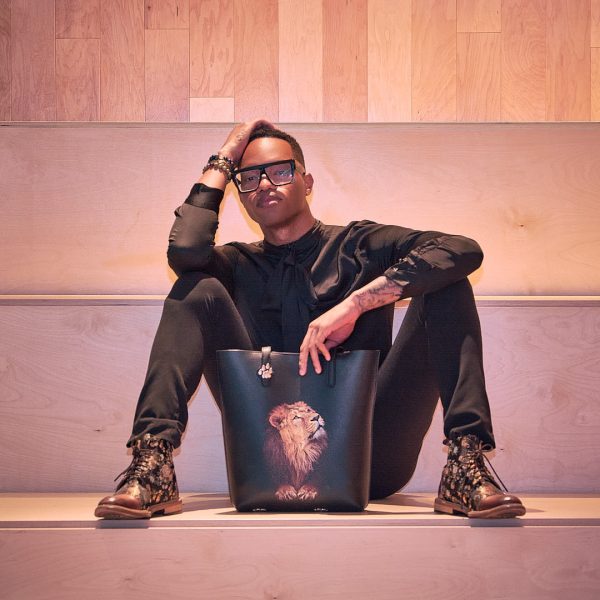 The global prevalence of leopard print and perhaps even admiration for a charismatic cat are not connecting the spots to the plight of the cats who are disappearing in the wild. The real leopard and their fashion representation are worlds apart.
Can we assume the same holds true for tiger stripes and cheetah spots and African lion imagery?Cheetah populations are on the decline as well yet cheetah spots are frequently found in fashion apparel and accessories. Often referred to as leopard print, the cheetah's spots don't seem to be easily differentiated from the rosettes of the leopard and jaguar. African lions are struggling for survival, yet lion imagery is almost everywhere.
One problem with big cat coat patterns and images being so prolific in fashion and culture is creating the delusion that the wild populations of leopards, tigers, cheetahs and African lions are abundant and not at risk.
Can we spark interest in the fashion industry to care about the living cats?
should Fashion pay a royalty for tiger stripes?
The tiger is one of the most popular animals in the world, yet tiger populations are declining and like the disconnect between leopard print and living leopards, can we assume those who wear tiger stripes and images of tigers are unaware of the tiger's future? Could the cat print popularity be an opportunity for big cat conservation?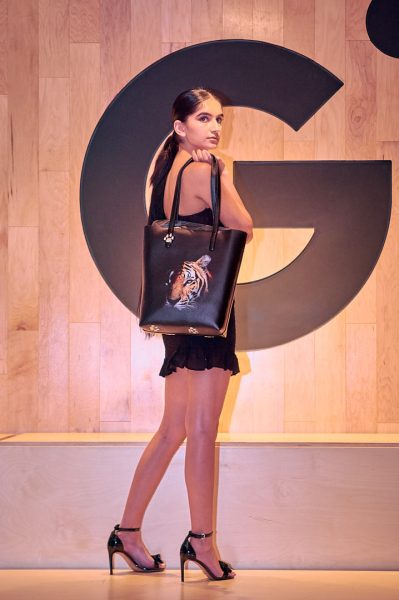 Vanishing species collection at Fashion Week Columbus
We are proud to be part of The Fashion Presentations at Fashion Week Columbus this month. "The Vanishing Species Collections spotlights the beauty of our big cats fading into black. Instead of featuring the cat coat patterns, I wanted to feature the gorgeous faces of these iconic cats. Looking at their faces, makes us see them. Not as a print, but as a living being. " said designer Joanne McGonagle. "The statement totes express to the world that you care about big cats and don't want them to disappear."
"Columbus ranks third in its number of fashion designers, trailing only New York and LA. The opportunity to showcase our Vanishing Species Collection enables us to be a voice for the big cats in a new venue."
Fashion Week Columbus is the flagship program of the Columbus Fashion Council, which produces a full week of fashion shows and fashion related programs showcasing emerging designers to media, buyers and the incredible fashion community in Central Ohio.
"I hope to spark interest and open a dialogue about the need for big cat conservation and the possibility of a royalty for leopard print, and for all big cat conservation projects by the fashion community." Triple T Studios supports big cat conservation projects including, The Lion Guardians, Cheetah Conservation Fund, Mountain Lion Foundation, Snow Leopard Trust and Panthera's Tigers Forever program.
References
C. Good, D. Burnham, T.P. Moorhouse, D.W. Macdonald. Connecting the spots: Leopard print fashion and Panthera pardus conservation J. Nat. Conserv., 61 (2021), Article 125976
Good, C., Burnham, D., & Macdonald, D. W. (2017). A Cultural Conscience for Conservation. Animals : an open access journal from MDPI, 7(7), 52. https://doi.org/10.3390/ani7070052
Mead, Rebecca. Should Leopards Be Paid For Their Spots? The New Yorker, March 21, 2022.