By Joanne McGonagle
Discover Your Cat's True Nature
Even though cats outnumber dogs living within homes, cats remain thought of by many as aloof, anti-social and not needing the love and attention that dogs are given.  Cats are mistreated and sometimes maligned because  they have been misunderstood. Stereotypes about cats sadly remain firmly in place so the team at Purina One decided to dig deeper and learn about the cat's true nature and what makes a cat…a cat!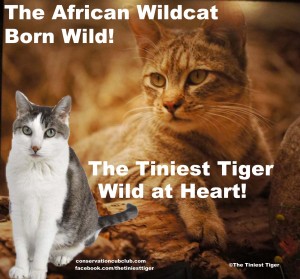 Our domestic cats roots can be traced back to the African Wildcat. So Purina One decided to go to Africa to learn more about our cats living ancestors so that we could all achieve a better understanding of what our own cats need to live their best lives.
I was thrilled to be asked by the Purina One team to join in the journey to discover the true nature of cats where we discuss and explore how to awaken, foster and nurture the natural instincts within our cat so that their lives will be enriched and in turn our own lives are better knowing that our feline family member is enjoying her life to the fullest.
I was in my final year completing my master of zoology with a focus on big cats when I first learned about the Purina One program.   I was so excited because The Tiniest Tiger children's book compares and contrasts the similarities and differences between the big cats and their domestic cousins that share our lives.
Who was your cat born to be?