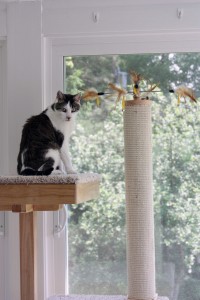 My dad doesn't realize that I can see him from on top of my Cat Power Tower in the sunroom.  He is sitting in the kitchen, drinking his tea and reading a magazine. But not just any magazine, he is reading the August issue of Cat Fancy that arrived at our habitat yesterday.
Now you might not think that reading Cat Fancy is a peculiar activity and it is certainly not unusual for one of my parents to be looking through this magazine, but it isn't just that he is reading the magazine, it is the particular article that has his interest, that has me worried.
As you know, Dad and I often share a middle of the night cup of tea and chow chomping time.  I look forward to spending this quiet time with him in the wee hours of the morning when it is still dark and not even the birds are singing.
But now this morning, I see him reading this article and I wonder why he is so interested in this topic.  This has me a bit concerned and I am not certain what to do.    Here is a photo I snapped catching him in the act.