Your dad and I have made it two weeks now.  I had to ask him this morning if it had been three weeks because it seems at least that long.  I still have a headache when I wake up in the morning. Still tired and fighting the depression of losing you.  I have a box of tissues in the passenger side of the Jeep because I just never know when I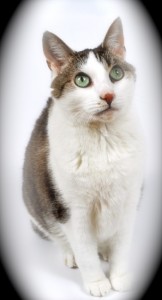 might be shedding  a few tears. Your dad has decided to wean himself off of comfort food by transitioning from chocolate cupcakes to lemon cupcakes.  I don't ask, I just smile and envy his metabolism. It is all part of the journey.
At night sometimes I still think I can hear your claws on  your scratching whale and it is still super hard to come home and not see you running to greet us.  Our hearts sink when the key goes in the lock.  You knew when you heard the word "disarmed" that we were coming back into the house  and seeing your big green eyes made us smile from ear to ear.  Your water fountain is still unplugged and stagnant.  I know I should pick it up and put it away.
After work today, I went to the clinic to collect your ashes.  To be honest, I put this off for a few days. Your dad listened to the voice mail message maybe even last week, I am sorry, the days have all run together and I am not certain and don't seem to care enough to sort them out. But today your dad encouraged me to go ahead and stop on my way home.
I had to steel myself to walk back in the door, the smells, the smiles on friendly faces and the heartache of having to say out loud. "I am here to collect Gracey's ashes."   You would be proud because I was brave and stood waiting, emotions all in check.  But then I saw the beautiful little wooden box I chose just after we lost you and that lump in my throat returned. I could feel the tears welling up in my eyes and I thanked everyone again for how much they cared for you too.
I made it outside and got into the Jeep.  I carefully opened the pretty bag holding your box and I ran my finger over the hand carved design on the top that reminded me of an Indonesian design and that is why I chose it because if you were a tiger, I think you would have been a Sumatran tiger.  You were a petite cat and even though you liked to behave like your big cousin the Amur tiger, let's be honest you weren't so fond of getting your paws cold and wet in the snow.  You were much more suited to meditating in the sun in your thinking circle.