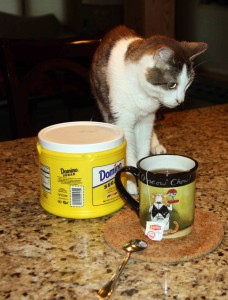 You might remember that my dad and I have a morning ritual that involves getting up super early, chomping chow and drinking hot tea.  My dad drinks the tea in case you are wondering.
Even when I get too excited to wait for the alarm to go off and get my dad up out of bed, he just picks me up and tells me  he loves me, and we enjoy  the early morning together.
He always drinks his morning  tea from the Meow Chow mug that I gave him as a present on the first Father's Day after I was adopted by  my parents. That is the Meow Chow mug in the photo above.
Two weeks ago, something unexpected happened.  In the big picture of life, you wouldn't  say that it was something terribly awful or tragic , but to my dad, it was a little bit heartbreaking.  Here is what happened.