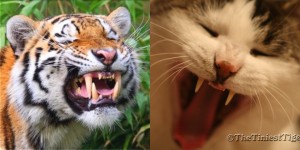 Happy Tiger Imitation Tuesday.   This imitation of mine proved quite difficult for most of you. I am taking the opportunity to show you my Tiger Teeth Imitation  so you can try again.   I know, I wish I could help you out a little more because our teeth look exactly the same, don't they?  And our chins, and whiskers, and even our stained pink noses, same, same, same.  ~sigh~  Do your best and take your time.  I have placed a subtle hint to help those of you that are feeling hopeless.
Many Friends have asked me about their own Cat's teeth.  I want to refer  you to our good Friends at Paws and Effect. There you will find an interesting article "Why does my cat's breath smell like fish?   Great information for your parents to know about keeping our teeth in working order. As you know chomping chow is one of my favorite things to do, so keeping my teeth healthy is important.
My breath doesn't smell like fish because I don't get to eat fish ever because of my allergies.

Alright, now try and decide which is me, Gracey, The Tiniest Tiger.
Am I on the left or the right?
And if you smell something fishy, check out Paws and Effect's post for some fresh breath tips.  If you smell something fishy because you have found a dead fish wrapped in a newspaper in your bed, well I don't know if I can help you.  You might need to ask for assistance from one of our big cat cousins, I am thinking Jaguar.

Thank you everyone.  Meow for Now!