Ideal Balance Crunchy Naturals
Gracey had food allergies and that made it difficult to find special treats for her to enjoy.  We were in that mind set for so long, now that Annie and Eddie are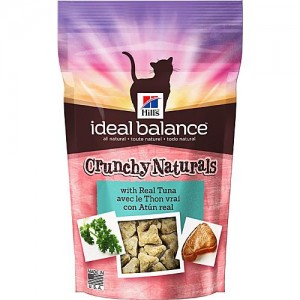 here we realized that we could look for a teat for them to enjoy.  We are still skittish about what to feed our cats because we want to make sure that they not only enjoy their treats but that the treats are good and safe for them too.
Ideal Balance created Crunchy Naturals for dogs and cats to meet the needs of pet parents that want the best in what they choose to give to their loved one.  I like the window on the bag that allows me to see the treats inside the bag too.   The treats stay fresh even after opening because the treat bag has a zip loc closure that seals tight. In fact, the treat bag stayed closed even after Annie batted it off the counter onto the floor thinking she would be able to get a few extra treats.
All Natural Ingredients and Grain Free
Ideal Balance treats are made with all-natural ingredients like real chicken and they are grain-free too. There is no corn, wheat, soy, added artificial preservatives, colors or flavors.  All of the Hill's Ideal Balance treats are manufactured locally, in the United States.
Zero Tolerance for Salmonella