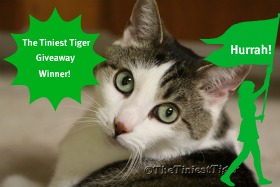 Super Hurrah and Congratulations to our Winners!
First Place-  Aatara
Second Place-  Jacky
Third Place-  Susan Bell
Thank you to everyone for your participation. Stay close by for other exciting giveaways.
No Need for House Cat Hairball Drama!
Today in honor of National Hairball Awareness Day, we thought it would be interesting for everyone to share their own house cat hairball drama. As we discussed in our post House Cat Hairballs, We Need to Talk, hairballs are the one cat issue that cause our parents grief.  With so many salient qualities, we felines might think  our hacked up hairballs might simply be overlooked. But, it is not only the ick factor we need to worry about, chronic hairballs can cause cats serious health problems and when we are sick, that causes our pet parents stress because they love us.
Two Things Pet Parents Can Do to Reduce Cat Hairball Drama