This past week-end was one of my favorite events of the year! Blogpaws was created  for the online pet community. They focus on bringing together pet bloggers for education, networking and creating change for animals in need.  This year's conference was held in Tysons Corner, Virginia. And it was a fantastic event even though Hurricane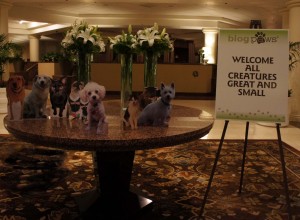 Irene tried to put a damper on the festivities.
I sent  my stunt double Flat Gracey with my mom to cover the event.   Flat Gracey was provided to me courtesy of Flat Tyler!   Fluffy Tyler's mom PetCareBev is the genius behind My Flat Pet.  Flat Gracey travels much easier and without anxiety.  This provides me a way to attend events from the comfort of my habitat.
Here I am with some of my Flat Pet Friends. Flat Tyler is the handsome Bichon to my left.  Preston is the handsome Westie to my right.  Fluffy Preston, from Preston Speaks was also in attendance at blogpaws.