Special Offer of FREE Tickets to Cats for Cats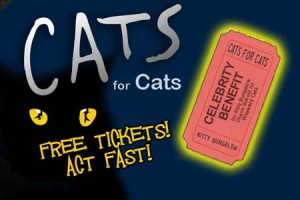 Through the generosity of Iams,  The Tiniest Tiger is able to offer a few  friends FREE tickets to a celebrity benefit performance of CATS in LA, CA at the Orpheum Theatre on Saturday, JULY 14. This  offer  lasts only as long as there are tickets available.
This event benefits Kitty Bungalow, a cat charity that runs a Kitty Charm School for wayward cats.
Because Iams was kind enough to offer these tickets and they're sponsoring the event, please only ask for the tickets if you plan to attend.
To request your tickets, leave a comment on this post, and be sure to enter a valid email address on the comment form.