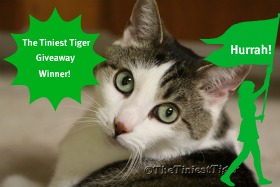 Congratulations and Super Hurrah to Pearl Audrey our winner of the FURminator Giveaway.
Friends, yesterday we learned that  the #1 condition reported by 35 percent of cat-owning households is hairballs!  So today on National Hairball Awareness Day , we are going to learn about how our parents  can  eliminate  the Eww… from our homes by doing one small thing for us. They simply need to grab hold of a FURminator® deShedding Tool and groom us.
The FURminator® helps prevent hairballs  while reducing shedding up to  90%! This definitely  keeps cats happier and healthier and give our tongues a break too. We cats spend up to  30% of our time grooming so when you help us out, most of us appreciate it even if we have an odd way of showing it.
Because the expert groomers at FURmintor® know how much fur comes off of one cat, they rounded up our favorite cat ladies to create a celebrity look alike out of their cat's hair.  You can find all of these creation in the  "FUR Creature" Gallery.  Our friends were wildly creative and quite talented using the cat hair as a medium.  I was not feeling inspired at first and then,  with the support and cheering on of our cousin Romeo the cat, I was able to create my own "Fur Creature" even without thumbs.  Here is my creation.
When you see the marvelous work of our friends, mine looks well, it looks like it looks.  To see all the other wonderful celebrities made of cat fur check out the Fur Creature Gallery on the FURminator's Facebook page.
Enter to Win Your Own FURminator® to Help Your Cat.