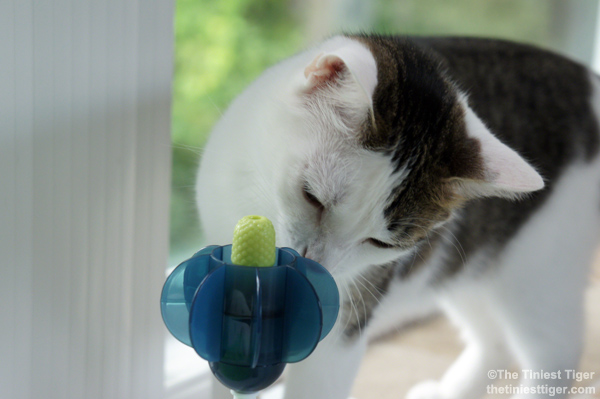 Out Cats Love the Catit Comfort Zone Elevated Cat Bed Too!
Our friends at  CatIt sent us their Catit Design Senses Comfort Zone Elevated Bed
 * to try out and I have to say it is a huge hit with Annie and Eddie. This elevated bed is the perfect place for your cats to chill out on hot days, or if you have an older cat, to help relieve arthritic pain.  The green cushion can be refrigerated to provide cool comfort for your cats.  When the bed first arrived, Paul took one look at it and said he didn't think the cats would be very interested in the bed.  Boy was he wrong.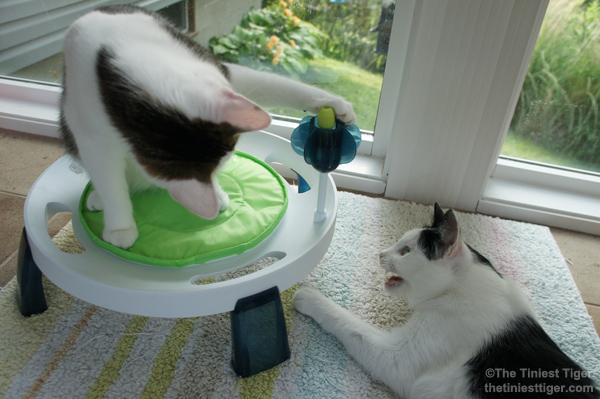 Of course, Annie was the first to pounce on the elevated bed.  Both cats were super curious but Annie is always the first to try new things.  In addition to the elevated platform, this bed comes equipped with a multi-purpose massager that provides intense rubbing pleasure for your cat's head, neck and face.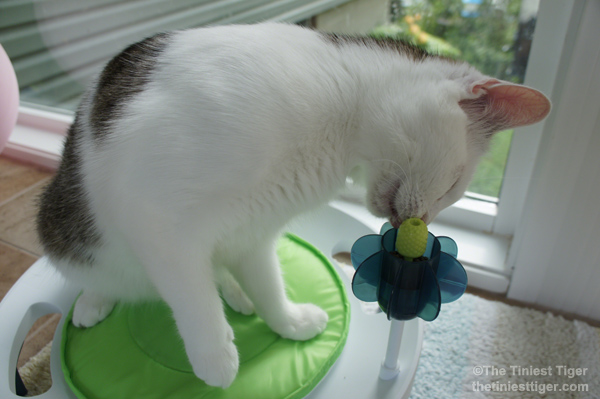 The bed also comes with a bag of catnip to sprinkle down into the container to entice the cats to rub up against the massager.  As you can see it didn't take Annie long to decide that she was interested in getting a massage.  First she rubbed the top of her head, while Eddie observed.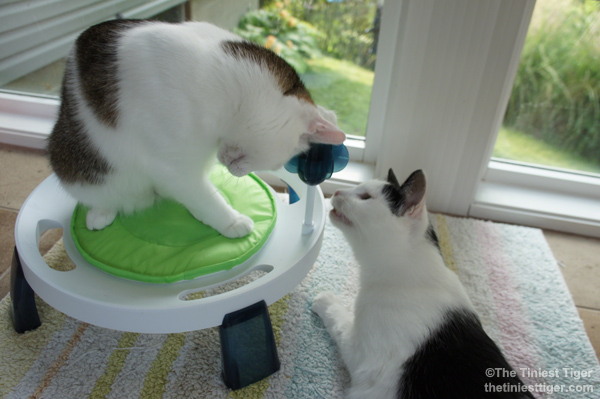 Next, she decided to give her gums a good rub down too. At t his point Eddie is growing a little impatient for his turn.  He is thinking maybe Annie is having all the fun.
When Annie decides to take a little break for a bit of grooming,  Eddie makes his move.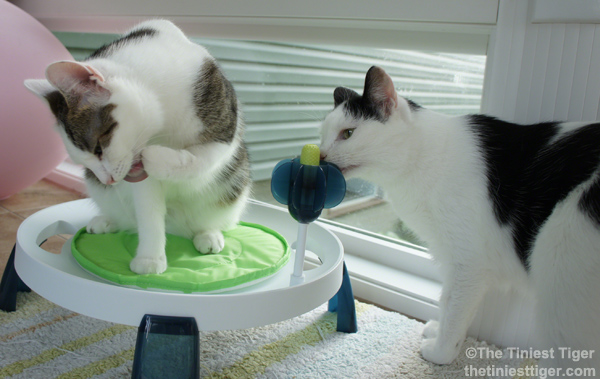 As Eddie knows, good things come to those who wait.  He seems to know that if he just exercises a little patience,  he will get more than enough time to try out the new Comfort Zone.
The elevated design accommodates additional placement of the  Catit Design Senses Super Roller Circuit Toy *
 for added sensory stimulation and exercise.  I think our little Eddie the engineer is thinking about how to combine his Roller Circuit with the new super cool bed.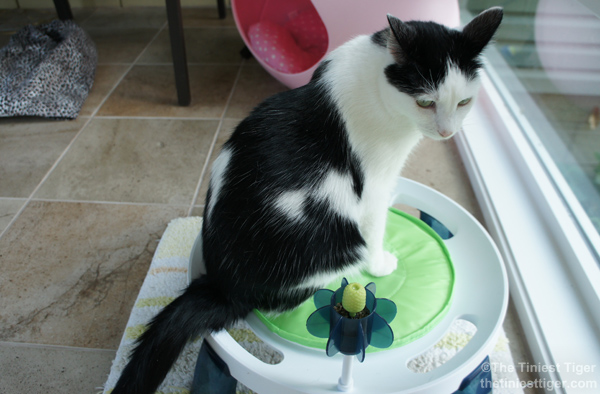 The Catit Design Senses Comfort Zone Elevated Cat Bed Giveaway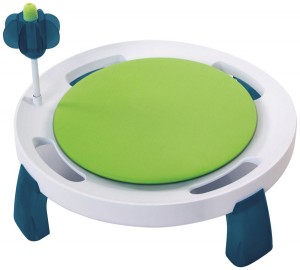 One member of The Tiniest Tiger community will win a CatIt Design Senses Comfort Zone Elevated Cat Bed. This giveaway is open to residents of the USA due to shipping. Sorry about that. But you can still enter and if you win, you can have the toy shipped to a friend or shelter of your choice.
To Enter:
Enter your information in the contest widget so we know where to ship your prize if you win. Tell us in a comment below whether you think your cat would like this cooling bed.
The comment below this post is important. If your name is drawn and you didn't leave a comment, another winner will be chosen.
The Rules:
This contest will end on July 21, 2014. Please one comment per person. I will enter all names in to Randomizer.com. The winner will be notified by email or through facebook depending on the contact information you provide. If you connect through facebook, check your Other messages not just your main messages. Make sure you are watching for an email from us. The subject line will say CatIt Design Senses Comfort Zone Elevated Cat Bed. Void where prohibited by law.
*Amazon Affiliate Link
This giveaway was sponsored by CatIt.  But The Tiniest Tiger only writes about products that we think will be of interest to members of our community.