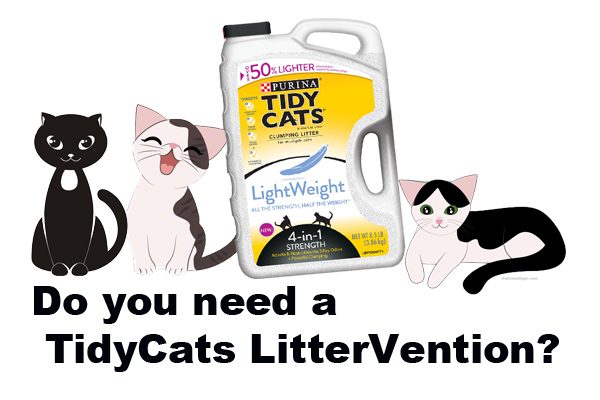 We are a member of the Tidy Cats Insiders and are being compensated to help spread the word about innovations and updates about Tidy Cats. The Tiniest Tiger only writes about topics that we think will also be of interest to you and all opinions are our own.
Our Litter Area Was a Whole Lot of Beige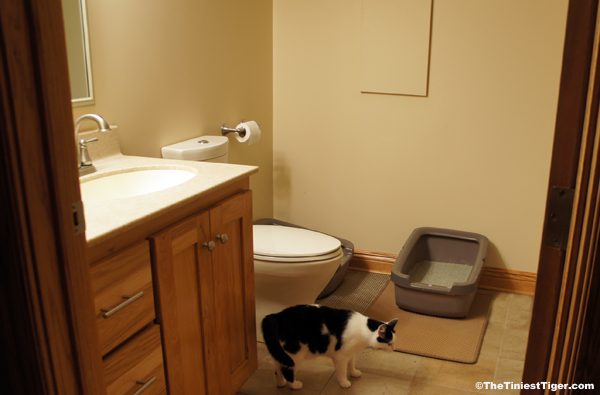 When our friends at TidyCats asked us to tell them about our cats' litter areas and even to submit photos, I realized our litter box areas are a whole lot of beige.  They serve the purpose but certainly aren't very appealing to the eye and maybe not even to the cats.  Look at poor Eddie in the photo.  Even he looks bored with the litter box room.  We did need a LitterVention!
Tidy Cats Asked Us These Questions About Our Litterbox Areas
What are the dimensions of your cat's space?

We have two litter box areas for Annie, Eddie and Mercy.  A total of 4 litter boxes.  One for each cat plus one. One area is in the bathroom in the ManCave space.  This bathroom is the least used by Paul and I so it is a perfect location for the cats.  The bathroom is about 10′ x 12′.  There is a shower in this bathroom and a wider space with a hutch behind the door.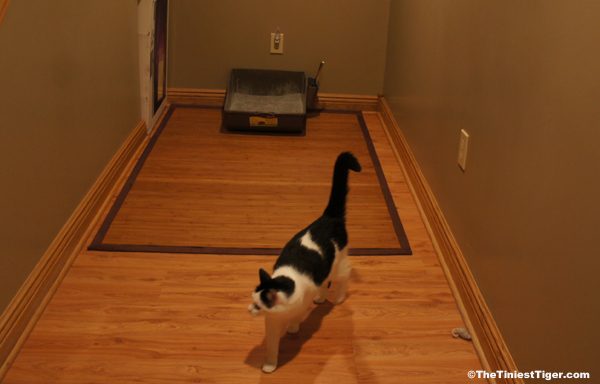 The second area is beside the storage area under the stairs.  Not hidden away but out of the main traffic path. Eddie is showing you this space in the image above.
What is your décor style?
So, yea… our decor style for the cats litter areas could be described as beige?  We are a carpet free house, due to our allergies and have hardwood and tile throughout.  The upstairs area has a little more color but after the littervention, we are going to add more color.
As you know the cats spend a lot of time in their sunroom but we have not placed a litter box in that room.
Do you and your cat have any preferences when it comes to his/her litter box setup?

We have all open litter boxes.   With three cats, and Mercy having a tendency to pick on Eddie, we think it is best to have the boxes in a place where the cats can see their surroundings. But we are open to try a covered box too.
Do you use litter box liners?
No
Do you have any color preferences?
Earthtones
What is your biggest litter box challenge?
Eddie is a kicker.  He kicks and kicks and kicks out litter.  Annie and Mercy don't seem to kick out litter as much as Eddie does.  Controlling the cats  tracking litter is our biggest challenge.
Our Litter Area After the TidyCats LitterVention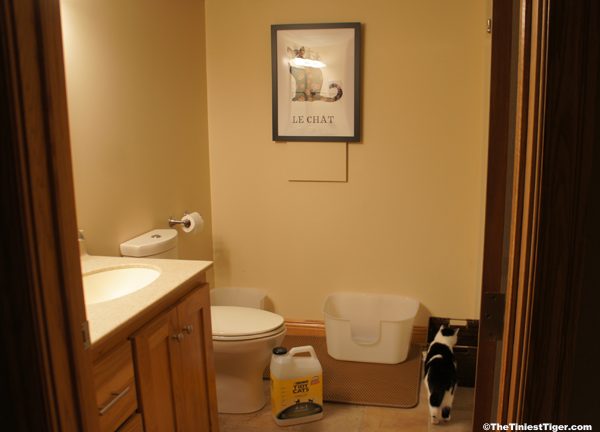 The bathroom even looks more peaceful, doesn't it?  The new high-side litter boxes help keep the litter inside even when Eddie is kicking up a storm.  The Cat Litter Trapper Mats are great for keeping the litter from tracking all over the house.  Adding the pretty Le Chat artwork and frame really added some much needed color to the space.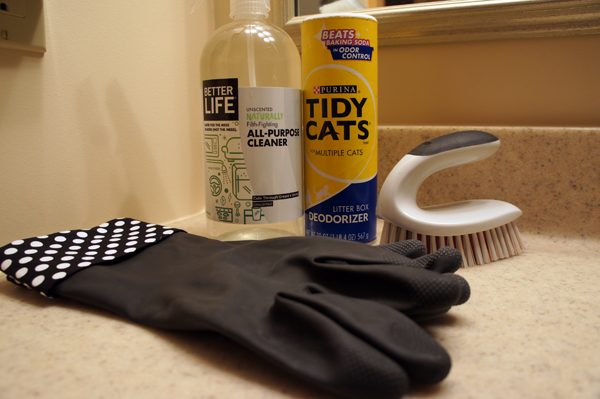 TidyCats sent us BetterLife all purpose cleaner and Tidy Cats Litter Box deodorizer, as well as a nice scrub brush and gloves to clean out the boxes at least once a month.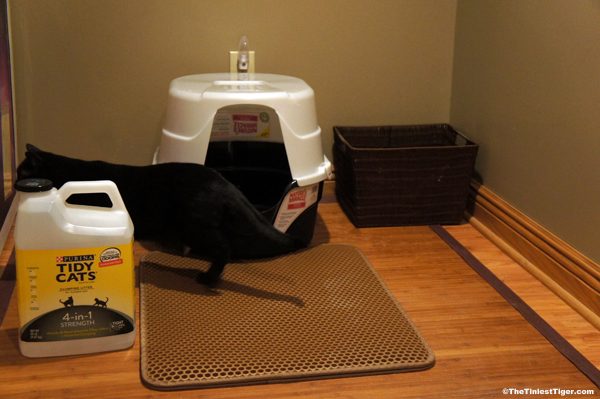 We are trying out a new covered litter box in the cat area beside the stairs.  Mercy seemed to be interested in this new box and Annie was caught jumping in and out even before we put the fresh 4-in-1 Strength litter in the box. The pretty basket is perfect place toys the cats carry and leave in the litter area.

The cats are super happy with the new setup and with their new toys and Pet Grass TidyCats sent them.
The Tidy Cats $200 Mini-LitterVention Makeover Giveaway
We have exciting news! One member of The Tiniest Tiger community will receive  a Mini-LitterVention Makeover from Tidy Cats.  We think you and your cats will be as happy as we are with our new litter area.