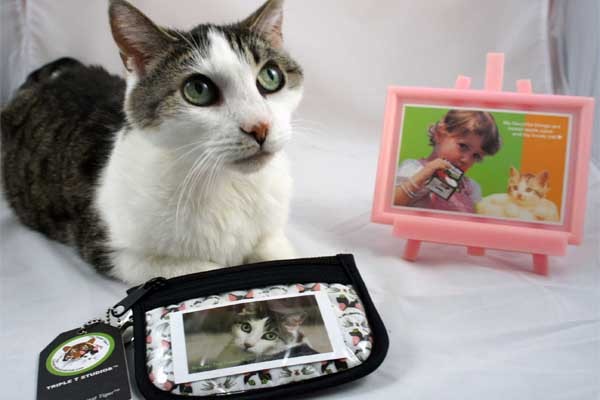 The Gracey Accessories
This morning I was feeling nostalgic about the first products we had made for Triple T Studios.  You might already know Gracey was the inspiration behind Triple T Studios. It seemed fitting to make the first fabric in a fun and happy pattern in honor of her called the Gracey fabric.
Through the last few years, the Gracey Accessories continue to be popular but I haven't showcased them in quite some time.  We are working on a couple of new items that I think you will love, but today, I wanted to highlight the most popular of the Gracey Accessories, The Gracey ID/Key.
The Gracey ID/Key
I have been using this convenient ID since we made the first one a few years ago.  I love that it can attach to the zipper on your handbag, be tucked inside but easily accessible.  The Gracey ID/Key features an ID window, a clip ring for keys, and a zip pocket for cash or other essentials.  The cute Gracey face microfiber pattern with the diamond quilting is sure to bring a smile to your face every time you reach for your ID and keys.
The inside is lined with a beautiful Spring Green microfiber matching Gracey's bright green eyes.  
 Gracey ID/Key Features:
3.5″ H x 5″ W x 1″ D
4.5″ W  Zipper Enclosure Pouch for credit cards/cash/receipts
3″ H x 4.5″ W External Slip Pocket
2.38″ H x 4.5″ W  Clear ID Compartment
Lobster Claw Clasp to secure ID/Key to Bag. 
The Triple T Studios Gracey ID/Key Giveaway
One member of The Tiniest Tiger Community will win the Gracey ID/Key.
If you can't wait you can learn more about the Gracey Accessories  here: Triple T Studios.
How to Enter
Enter your information in the contest widget so we know where to ship your prize if you win.
The Gracey Accessories include the Key/ID, Cosmetic Bag, Coin Camera and Pen and Brush. Visit The Gracey Collection and pounce back here, and leave a comment below this post telling us: Which Gracey Accessory do you like the best?
This giveaway is open to everyone.
The Rules:
Void where prohibited.