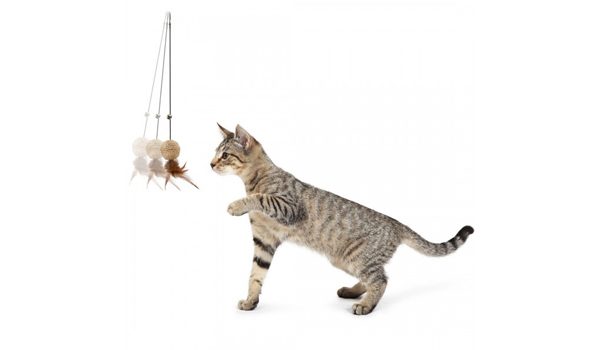 Whimsy Automatic Cat Toy from PetSafe
PetSafe sent us a Whimsy Automatic Cat Toy for  Annie, Eddie and Mercy. All three cats like the toy, but Eddie is the most interested. Eddie will play and play all day.
Whimsy is an automatic teaser toy that connects to almost any counter, table or other sturdy surface and dangles a fun teaser ball for your cat.  The Whimsy features Play While You Are Away mode to keep your cats entertained.
The Whimsy Features:
Attach Whimsy almost anywhere for exciting play time
Play While You Are Away mode for multiple play sessions all day
Exciting rope textured ball with feather
Automatic shut off after 10-15 minutes
Safety breakaway feature
About PetSafe
PetSafe is  passionate about creating innovative behavioral, containment and lifestyle product solutions to give you more great moments with your pets.
The Whimsy Automatic Cat Toy Giveaway
One member of The Tiniest Tiger Community will the Whimsy
Automatic Cat Toy
from PetSafe.