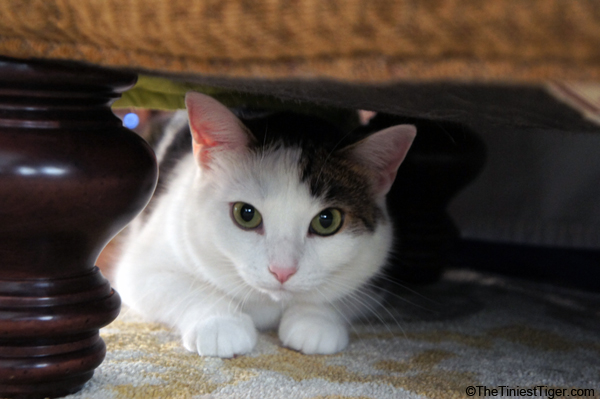 Why Do Cats Hide: Unraveling Feline Behavior
Why do cats hide? One common behavior among cats is their tendency to hide. Hiding may be part of their instinctual nature or due to environmental factors, making it essential for cat parents to understand why their pets engage in this activity.
Understanding cat behavior is crucial if we want to create a comfortable, safe, and stress-free environment for our feline companions. Cats are known to be highly sensitive and may attempt to hide as a way to cope with stressors, explore their surroundings, or simply find a cozy spot to rest. It is common for cats to seek out hiding spots to meet their need for privacy and security, making it necessary for cat parents to recognize when hiding is normal and when it may be indicative of a problem that requires attention.
Key Takeaways
Cats hide for various reasons, including coping with stress, exploring their environment, and seeking privacy.
Recognizing the difference between normal hiding behavior and potential problems is essential for cat parents.
Providing a safe and comfortable environment can help prevent excessive hiding behavior and support overall wellbeing.
Understanding Cat Behavior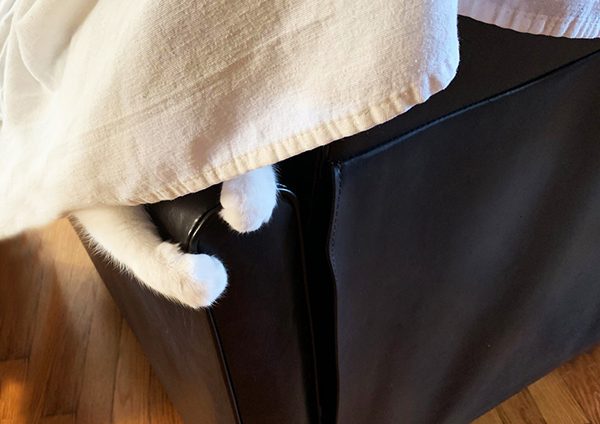 Normal Behavior
Cats are known for their unique personalities and behaviors. One of these behaviors includes hiding. Although it may seem concerning to some people, hiding is a normal aspect of cat behavior, inherited from their wild ancestors. Cats naturally have cautious behavior when out hunting, using withdrawal and hiding as a means to evade predators. Understanding their evolutionary history helps us better understand cats today and their normal behaviors.
Body language plays a significant role in deciphering a cat's behavior. For example, a fearful cat may flatten its ears and tuck its tail, while a curious cat may have erect ears and dilated pupils. By observing their body language, we can get a better sense of what triggers their behavior and how to accommodate their needs.
Environmental Response
Environmental factors also influence a cat's behavior. Cats may hide in response to changes in their environment, such as the presence of new people, animals, or unfamiliar objects. It is essential for cat caretakers to understand individual differences in the behavioral responses of cats to acute environmental stress.
Cats have different coping styles in response to environmental changes. Some cats may spend more time hiding and exhibit higher stress levels than others. This variation in coping styles may affect a cat's overall well-being. Caretakers must be aware of these differences and take the necessary steps to provide a comfortable and safe environment for their feline companions.
By understanding cat behavior and their environmental responses, we can ensure that our cats are living happy, healthy lives. Recognizing and respecting their normal hiding behavior, along with providing a comfortable environment, enables cats to thrive and helps strengthen the bond between cat and caretaker.
Reasons Why Cats Hide
Stress and Anxiety
Cats often hide when they experience stress and anxiety. This could be due to various factors, such as a change in routine, loud noises, or conflicts with other animals in the household. Hiding provides cats with a sense of security, making them feel safe and protected from potential threats. It is essential to identify the cause of stress and find ways to alleviate it, such as providing a quiet and comfortable environment, interactive toys, and ensuring they have their own space to retreat to when needed.
Health and Illness
Cats are notorious for hiding their pain and discomfort. When a cat is feeling unwell, they might hide to conserve energy and protect themselves from potential predators. Hiding could be a sign of an underlying medical issue that requires attention from a veterinarian. Some common health issues that may cause a cat to hide include dental problems, urinary tract infections, and internal injuries. It is crucial to monitor for any changes in behavior and address any symptoms with a healthcare professional to ensure your cat receives appropriate care.
Response to New Environment
When introduced to a new environment, cats may hide as a natural response to unfamiliar surroundings. They may feel vulnerable and need time to adapt to their new surroundings. Providing safe spaces for them to hide in, such as a cardboard box or an enclosed bed, can help them feel secure and more comfortable as they acclimate to the environment. Gradually introducing them to the new area and giving them ample time to explore at their own pace can also aid in minimizing stress and anxiety during this transition period.
Pain and Discomfort
Cats experiencing pain or discomfort may seek out hiding places as a coping mechanism. Pain can be caused by injury, surgery, or a chronic condition like arthritis. When a cat hides due to pain or discomfort, it is crucial to consult with a veterinarian to determine the cause and explore appropriate pain management options. Monitoring your cat's behavior and daily activities can help identify when something is amiss, allowing you to address these issues promptly and provide proper care.
Recognizing Hiding Versus Normal Behavior
Signs of Stress
Cats commonly exhibit hiding as a natural, instinctive behavior when they feel stressed or threatened. Recognizing signs of stress in your cat can help you better understand their desire to hide. Some common stress indicators include:
Dilated pupils
Rapid breathing or panting
Ears turned sideways or back
Changes in body posture
Addressing the underlying causes of stress can often help improve a cat's hiding behavior.
Signs of Illness
Hiding can also be an indicator that a cat is not feeling well or could be experiencing pain. Cats are known for their ability to conceal pain, which can make it difficult to recognize when they are unwell. Some signs that a cat may be hiding due to an illness include:
Loss of appetite
Lethargy
Changes in vocalization patterns
Unusual or uncharacteristic hiding spots
It is essential to consult with a veterinarian if you suspect your cat is hiding due to illness or pain.
Popular Cat Hiding Spots
In the Home
Cats are known for their love of finding hiding spots within the home, as they enjoy feeling safe and secure in their own space. Some common hiding spots inside a home include:
Under the bed: Beds provide a large, dark, and quiet space for cats to hide and relax, making it an ideal location for them.
Closets and cupboards: Cats are attracted to these enclosed areas because they provide a sense of security and can be easily accessed when they want to retreat from busy environments.
Cardboard boxes: Cats often find comfort in cardboard boxes, as they are cozy, enclosed spaces where they can easily hide from sight.
Bathrooms: Cats may choose to hide in the bathroom, particularly in a bathtub or a sink, as they can feel cool and protected there.
Behind furniture: Cats may hide behind furniture such as sofas, as it provides them seclusion and protection from potential threats.
Outside the Home
Cats that roam outside may also find hiding spots to rest and protect themselves from different elements. Some common areas outdoors include:
Garden bushes: Cats can find comfort in garden bushes and shrubs that provide natural cover and a safe spot for them to hide.
Under outdoor furniture: Cats may take advantage of outdoor furniture by hiding underneath them, such as chairs and tables, to seek shelter from the sun or inclement weather.
Unusual Areas
Cats can be quite imaginative in their choice of hiding spots, and sometimes they may select some unusual locations, such as:
Laundry baskets: Cats may find solace in laundry baskets, as they are often warm and comfortable due to the presence of clothes.
Inside appliances: While uncommon, some cats may choose to hide inside appliances such as dishwashers, washing machines, and dryers. It is essential to always check these areas before use to ensure the cat's safety.
Secluded spaces: From high shelves to hidden nooks and crannies, cats are adept at finding secluded spaces that provide them with privacy and safety.
It is essential to be aware of your cat's hiding habits and respect their need for privacy and security. By understanding their preferred hiding spots, you can create a comfortable environment for them to thrive in while ensuring their safety.
How to Handle a Cat Hiding
Consulting a Veterinarian
When dealing with a hiding cat, it is essential to consult a veterinarian to rule out any medical issues. A vet can determine if the cat's hiding behavior is due to a health problem or stress. It is crucial to address these issues as soon as possible to prevent further discomfort for the cat. Transporting the cat to the veterinarian in a carrier can help reduce stress and make the process easier.
Creating Safe Spaces
In order to make a hiding cat feel more comfortable, it is important to provide them with a safe and secure environment. This can be achieved by offering various resources such as hiding spots, cat trees, and comfortable bedding. A new cat, in particular, may hide due to the unfamiliar surroundings, so creating a safe space will assist them in adjusting to their new home. Some suitable options for hiding spots include:
Cardboard boxes
Cat trees with built-in hiding spaces
In addition, it may be helpful to establish designated quiet areas where the cat can retreat when feeling overwhelmed or scared.
Positive Reinforcement
To help a cat become more confident and less fearful, it is important to use positive reinforcement techniques. This involves rewarding desirable behavior with treats or affection. Instead of forcing the cat out of their hiding spot, allow them to come out on their own when they feel safe. Gradually encourage the cat to explore different areas by placing treats or toys nearby. Eventually, this will help them associate positive experiences with their environment, leading to greater feelings of safety and security. Remember to always be respectful and patient when working with a hiding cat, as pushing them too quickly can hinder the progress being made.
Preventing Cat Hiding Behavior
Environmental Changes
One way to reduce cat hiding behavior is by making environmental changes. Cats may hide due to excessive noise or an uncomfortable environment. To address this, ensure your cat's living space is free from loud sounds, chaos, and other stressors. Providing designated hiding spots such as cardboard boxes, cat trees, or tunnels can satisfy their need to hide while still allowing them to feel safe. It might also be helpful to offer controlled exposure to change, such as slowly introducing them to new environments or gradually increasing the volume of background noises.
Behavioral Training
Behavioral training can also help prevent hiding behavior in cats. If your cat tends to hide when faced with specific situations or triggers, training may help them build confidence and overcome their fears. Using positive reinforcement techniques, such as treats and praise, can be an effective way to promote desired behaviors. Remember that patience is essential during this process, as it may take time for your cat to adapt.
Comfort and Security
Providing a cozy and secure environment can decrease a cat's hiding behavior. Ensure that their living space has plenty of comfortable areas, such as soft beds and blankets, to help them feel more at ease. In addition to physical comfort, pheromone diffusers can be used to create a calming, reassuring atmosphere for your cat. By promoting a sense of security, your cat may be less likely to exhibit excessive hiding tendencies—especially when faced with stressful situations like moving to a new space.
Understanding Unique Cat Habits
A cat's age plays a significant role in their hiding habits. Young kittens may hide as they explore their environment and develop confidence, while older cats, especially those with arthritic conditions, might seek out hiding spots to feel more comfortable and secure.
Addressing the litter box and bathroom habits is also crucial in understanding hiding behavior. Cats are known for their cleanliness and preference for privacy when it comes to using their litter box. If the litter box is not clean or positioned in a high-traffic area, a cat may seek out secluded places to relieve themselves.
The domesticated cat is unique in its ability to adapt its predatory instincts to living alongside humans. Cats have retained some of their ancestor's behaviors, such as hiding to avoid potential predators or lurking around to stalk their prey. A new person in the environment might trigger a cat's instinct to hide, displaying their inherent cautiousness towards unknown situations.
Felines also exhibit hiding behavior around birth. Mother cats, or queens, will search for a safe and quiet location to give birth, providing their newborn kittens with a secure environment. This instinctual behavior safeguards the vulnerable kittens from potential predators.
In general, feline behavior continues to be an essential area of study to help cat parents create a harmonious and understanding relationship with their pets. Recognizing and respecting the multiple factors that contribute to these unique habits offers various benefits for both cats and their human companions, promoting healthier and happier lives.
Frequently Asked Questions
Why do cats hide in the house?
Cats hide in the house primarily due to their natural instincts. Even domestic house cats may still try to conceal their presence from predators or territory rivals. Hiding allows them to feel safe and secure, avoiding potential threats.
What does it mean when a cat isolates itself?
When a cat isolates itself, it could indicate several things, such as stress, sickness, or discomfort. Cats may also isolate themselves when they are fearful or anxious. It is essential to monitor the cat's behavior and consult a veterinarian if the isolation persists or seems abnormal.
Should I let my cat hide all the time?
Allowing your kitty to have access to hiding spots is essential as it enables them to feel safe and secure. However, if your cat spends an excessive amount of time hiding, it could indicate an underlying problem, such as stress or illness. In such cases, consulting a veterinarian is advised.
How do I get my cat to stop hiding?
To help your cat stop hiding, first identify the reason behind their behavior. If the cat is hiding due to stress or fear, try creating a more comfortable and calm environment. Also, ensure that their needs are met regarding food, water, and litter. Gradually building trust through positive reinforcement may also help them feel more secure and reduce hiding behavior.
What does it mean when a cat hides?
When a kitty hides, it most often means they are trying to feel safe and secure. They may be hiding due to fear, stress, illness, or to maintain a sense of territory. It is vital to observe their behavior and consult a veterinarian if it is ongoing or appears to be impacting their overall well-being.
Why do cats hide under the bed?
Cats may hide under the bed because it provides a dark, enclosed space where they feel secure. It also allows them to observe and retreat further without feeling too exposed. This behavior is rooted in their instincts to protect themselves from potential harm or perceived threats.