I really like this video, A Cat's Guide to Taking Care of your Human because it portrays cats in a more authentic way as affectionate, caring beings. I think I can speak for most cat lovers when I say we are sick and tired of the aloof, unconcerned stereotype that keeps being echoed throughout the media.
Gracey would have said Super Hurrah to Purina for this video.
But don't take my word for it. Here is the video.
A Cat's Guide to Taking Care of Your Human
Pretty great video, isn't it?
Tidy Cats Coupon Giveaway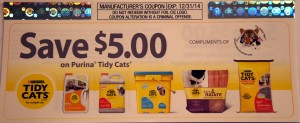 Now that we have Annie, Eddie and Mercy, we have more litter pans. And let's be honest, cleaning the litter pan is not one of anyone's favorite things to do. So to help you out just a bit we are giving away 10 $5.00 coupons good on any of the Tidy Cats Litter. Whether you would like to try the new Tidy Cats Lightweight or Pure Nature, these coupons will allow you to try them inexpensively. And these coupons come compliments of The Tiniest Tiger with our logo.
To Enter:
Enter your information in the contest widget and leave a comment below telling us what one thing you would do to improve your cat litter.
The Rules:
This contest will end on January 3, 2014. Please one comment per person. I will enter all names in to Randomizer.com. The winner will be notified by email or through facebook depending on the contact information you provide. If you connect through facebook, check your Other messages not just your main messages. Make sure you are watching for an email from us. The subject line will say Tidy Cats Coupon winner! Void where prohibited by law.