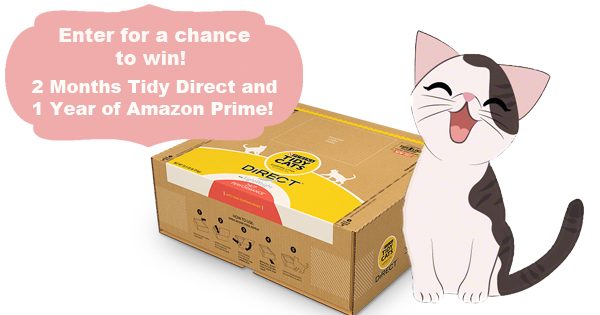 We are a member of the Tidy Cats Insiders and are being compensated to help spread the word about innovations and updates about Tidy Cats. The Tiniest Tiger only writes about topics that we think will also be of interest to you and all opinions are our own.
It is fast approaching the most wonderful time of the year. This means that time will seem to fly by even faster than it does throughout the  rest of the year.  If you are like us, your days are whizzing by and you are struggling to check off all the items on your To Do List. I must confess that the job of scooping and cleaning litter boxes falls into Paul's list of chores, because of asthma and the need to avoid dust.
The Never-Ending Litter Box To Do List
Tidy Cats Direct™ To The Rescue
Paul's litter box To Do List  never seems to have all the boxes checked.  That is until now.  Tidy Cats is now available as Tidy Cats Direct, available for ordering online and delivery to your home! Tidy Cats Direct is a disposable one-time-use pre-filled (no pouring-no dust!) with Tidy Cats Lightweight 24/7 Performance clumping litter. This litter has TidyLock Protection™ to lock away urine, fecal and ammonia odors.  Each crafted in the USA anti-leak coated disposable box contains enough litter to last up to one month for one cat with typical use, so all you have to do is open, scoop and toss the whole thing out when you are ready for a fresh box to be delivered to your door!
Open, Scoop, Toss, Repeat!
The Tidy Cats Direct box arrives at your door, ready to use!  All you have to do is open, which is super easy.  As you can see, Annie is able to open the box without the use of thumbs!
Once you open the Tidy Cats Direct box, you gently tear along both sides of the perforated top. Keep tearing to the fold line and then fold the top under the box!  Don't remove the top because you will need the top when it comes time to toss the box.  And voila!  The litter box is ready for use.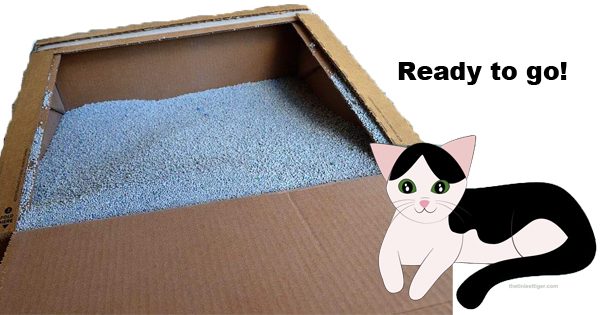 So easy!  Then just scoop the light tight clumps to keep the box clean for kitty. There is a lip around the top to help contain the litter if you have a cat that loves to kick like our Eddie.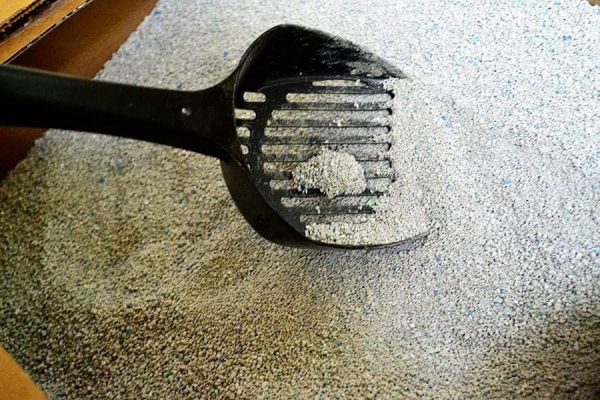 At the end of the month, simply tuck the top closed and toss the whole thing out. When you reorder regularly, you will have a fresh box ready to go.
More Time To Cater To The Cats!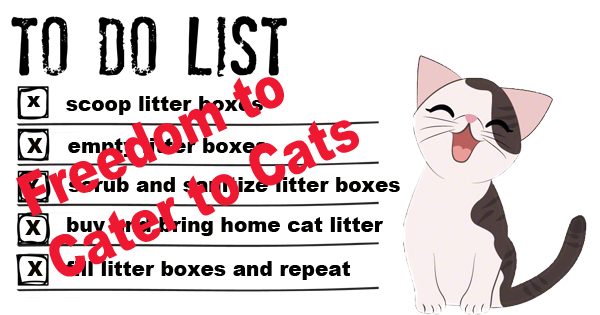 Tidy Cats Direct helps Paul to complete his litter box to do list with time to spare. Now he has more time to cater to the cats!  Already he enjoyed joining them for Halloween fun.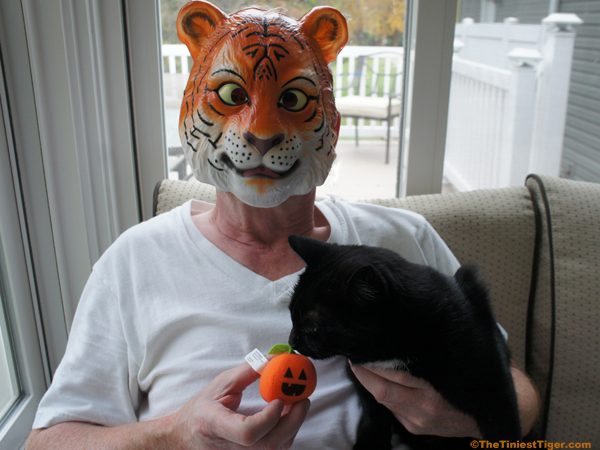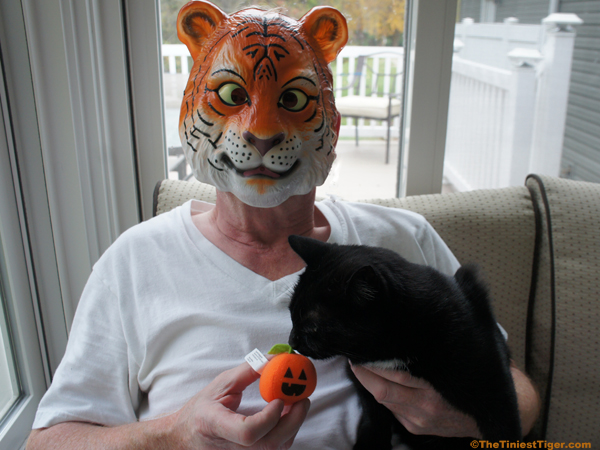 and this past weekend he added some channels to Annie, Eddie and Mercy's Bird TV.
And most importantly there is more time to snuggle on the sofa with the cats at the end of each day.
The Tidy Direct and Amazon Prime Giveaway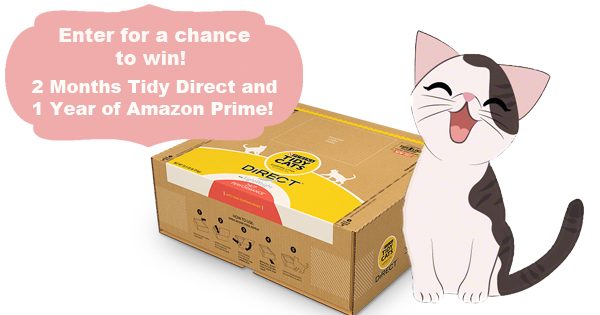 Tidy Cats would like you to have more time to cater to your cats too!  One member of The Tiniest Tiger Community will win your own one-year Amazon Prime membership or gift card, and two months of Tidy Cats Direct to make your litter box chore a litter more convenient!